If you haven't been on Instagram much this month, you may have missed the month-long Serendipity extravaganza! I asked the contributors to SERENDIPITY some romance-related questions and have shared them throughout February (along with one of my own!) so you can get to know us a little better. Each of the ten posts is its own giveaway, so make sure to find them all and enter each one. 
The giveaways wrap up at the end of the day tomorrow (February 28) so pop over to my Instagram now (details and how to enter on each post).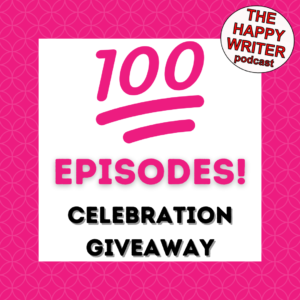 And while we're talking about giveaways, you also still have until the end of tomorrow to enter the Happy Writer Podcast Monthly contest. This month's is extra special. We've reached the amazing milestone of having published 100 episodes! That's 100 entertaining and inspiring conversations. We hope you've enjoyed listening over these past nearly two years and are excited about what's to come!
To celebrate, this month's contest contains a grand prize giveaway of a $100 virtual gift card to Bookshop.org (or regional alternative outside of the US/UK) and two second prizes of $25 virtual gift cards. Head over to The Happy Writer post for details and to enter. 
Good luck!