It's hard to believe that it's been 10 years since Cinder was first released! 
To mark the occasion, there are several ways you can celebrate and enter to win!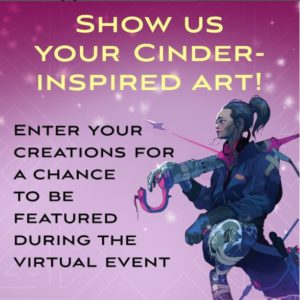 #1 – Share your fanart using this form for a chance to have it featured during the virtual event on March 16. Register for the free event here.
#2 – Enter The Ultimate Lunar Chronicles Sweepstakes for a chance to win a TLC bundle. But hurry – this sweepstakes ends March 13. US only. See full details and enter here.
#3 – We want to see all your favorite Lunar Chronicles memories! Fanart, favorite quotes, ultimate OTPs and more. Participate in one or many of the prompts before 3/22 and share on social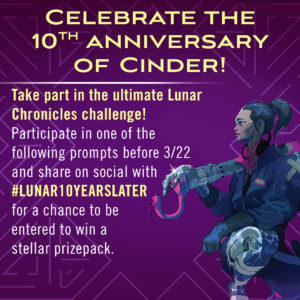 media using the hashtag #Lunar10YearsLater for a chance to win a stellar prize pack. The more you play, the more chances you have to win! (Instagram, TikTok, and Twitter all count)⁠
The prizes:⁠
✨ 5 winners will receive a Collector's Edition copy of Cinder (on sale 3/15!)⁠
✨ 1 grand prize winner will receive a tote bag full of Universe of Marissa Meyer promo PLUS a signed and personalized copy of the Collector's Edition. ⁠
⁠
Happy celebrating! We can't wait to see what you all come up with. Below are all the prompts:
✨⁠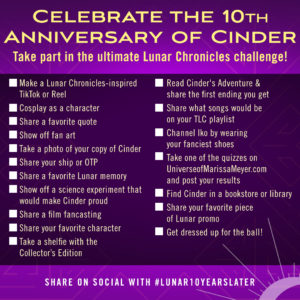 Make a Lunar Chronicles TikTok or Reel.
✨Cosplay as a character.
✨Share a favorite quote.
✨Show off fan art.
✨Take a photo of your copy of Cinder.
✨Share your ship or OTP (with permission!).
✨Share a favorite Lunar memory.
✨Show off a science experiment that would make Cinder proud.
✨Share a film fancasting.
✨Share your favorite character.
✨Take a shelfie with the collector's edition.
✨Read Cinder's Adventure and share the first ending you get.
✨Share your TLC playlist.
✨Channel Iko by wearing your fanciest shoes.
✨Take a quiz at universeofmarissameyer.com and share your results.
✨Find Cinder in a bookstore or library.
✨Share your favorite piece of Lunar promo.
✨Get dressed up for the ball!
Good luck!
⁠Abbreviated Rules: No purchase necessary. Open only to legal residents of the 50 United States, D.C. and Canada (excluding Quebec) who are age 13 or older. Entry period begins at 4:00 PM Eastern Time (ET) on 3/8/2022 and ends at 11:59 PM ET on 3/22/2022. Void where prohibited. See here for full Official Rules. Sponsored by Macmillan Children's Publishing Group, 120 Broadway, New York, NY 10271. The Sweepstakes is in no way sponsored, endorsed or administered by, or associated with, Twitter, Instagram, or TikTok.⁠
⁠