You may already know that in celebration of the 10th anniversary of The Lunar Chronicles there will be a Cinder 10th Anniversary hardcover collector's edition (coming March 15th but available for pre-order now).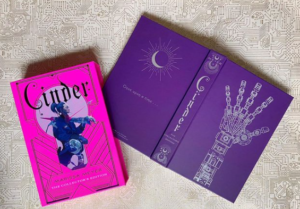 But there's MORE that I am
SO EXCITED about!!! 
I'm releasing a new Cinder ebook… but with a twist!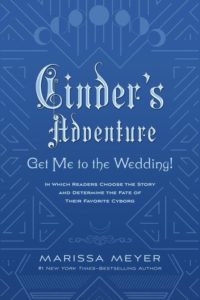 Cinder is getting married! She and Emperor Kai have made it to their big day – now all Cinder has to do is show up and say "I do." But it's not so easy when YOU, reader, are in control of her fate!

This is an interactive e-novella where you get to help Cinder get to the wedding. I had so much fun writing this story and coming up with a BUNCH of different potential endings! I hope you love it as much as I do!

ALSO – there might be some special appearances from Cath, Serilda, Pru, Nova and some other favorites….. 😉

Plus – I will be donating all of my royalties from the sales of this ebook to First Book, one of my favorite non-profits that helps to promote literacy and a love of reading in underserved areas!

Cinder's Adventure: Get Me to the Wedding will be released as an ebook original on March 15, 2022 (the same day as the Cinder Collector's Edition!) and is available for preorder:
Purchase Links:  Barnes and Noble (Nook)  | Apple Books | Kobo | Google Play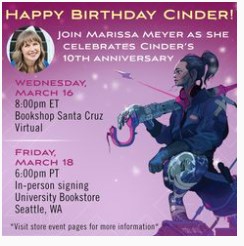 There will be two events in March to celebrate the 10th anniversary. 
There will be a virtual event hosted by Bookshop Santa Cruz on March 16 (click through to register), and an in-person signing at University Bookstore in Seattle. I hope to "see" you all there, for all the fairy tale and cyborg shenanigans!!


Disclosure: I am an affiliate of Bookshop.org and I will earn a commission if you click through and make a purchase.