It's less than a month until GILDED releases! To celebrate, I'm doing several giveaways over on Instagram where you can win bundles of my books. We've already done week one but there are still four more chances for you to win. Check it out for details and make sure you come back every week to enter. 
You still have time in the GILDED preorder campaign to receive your free swag! Submit your preorder receipt for GILDED by October 18, 2021 to receive a gothic short story by email – The Phantom of Linkshire Manor. 
US/Canada – submit your receipts here.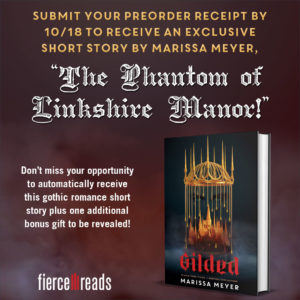 International – submit your receipts here. 
And while I won't be doing a full tour for GILDED, I am doing several virtual meet & greets and a few in-person events. For details and ticketing information, see the events page here. NOTE: Each event has a different host and ticketing, so please make sure you make note of the details for the one you want to attend.
I can't wait to share GILDED with you and hope to see you at an event in November!