A few months ago I learned that Justine Magazine would be running a Lunar Chronicles feature in their Feb/March issue.
And not just any feature – A QUIZ!
And not just any quiz – A MEN OF THE LUNAR CHRONICLES QUIZ!
Oh, how the 14-year-old girl inside of me simply died from giggles and giddiness.
Okay, the 29-year-old me pretty much died too, especially when I was able to get my hands on a copy. I read it in the middle of Barnes & Noble and people were giving me VERY strange looks by the time I was done.
I won't give all the questions away, because you should definitely go snag a copy for yourself, but my personal favorite:
6. If your dream guy were cast in a role he would be…
A. Prince Charming
B. Wolverine
C. Captain Mal Reynolds of the spaceship Serenity
*head explodes from awesome*



Want to take the quiz for yourself and find out which of the Lunar Chronicles heroes – Prince Kai, Wolf, or Captain Carswell Thorne – is your dream guy? You can pick up a copy of the February/March issue of Justine, OR enter the giveaway below!


The Best Quiz Ever Giveaway
TWO WINNERS will each receive: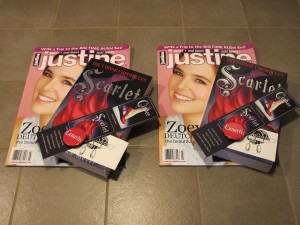 – 1 signed copy of SCARLET (UK edition, paperback)
– 1 copy of Justine Magazine (heck, I'll sign it too if you want)
– misc. swag, including a BRAND NEW "Lunartic" button!
This giveaway is international. Good luck!