When I posted my tips on Packing for Book Tour a couple weeks ago, I mentioned that it's important to leave some room in your luggage, because you'll inevitably pick up some stuff on the road.
Today I wanted to highlight some of the coolest things that were brought back home with me after this last tour: gifts hand-crafted by friends, fans, and readers. I love them all so much.
Plus, you guys are just so darn clever!!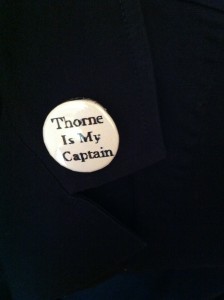 "Thorne Is My Captain" button. (Yes, yes he is.) This now lives in a place of honor on my most military-esque jacket.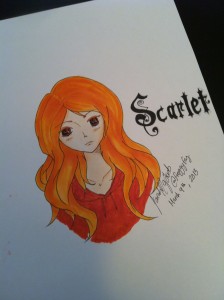 Pretty, pretty fanart. This was one of a handful of illustrations that were given to me, but the rest of already been stored away for safekeeping. I'm considering a corkboard in my office to display them all…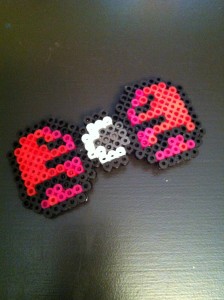 Home-made hair barette. It makes me feel like Sailor Venus!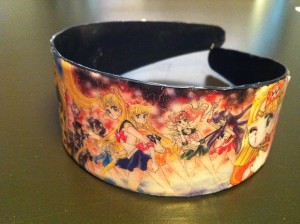 Speaking of Sailor Moon hair accessories, isn't this decoupaged Sailor Moon headband ADORABLE?
A Cinder charm bracelet, complete with a fairy tale castle, VW Beetle, glass slipper and (awwww!) Cinder and Kai kissing on the moon. This was made by my good friend Nat-chan, with help from her husband.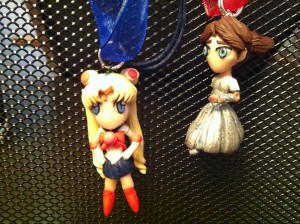 !!!!!! I can't even describe my glee when these were given to me – miniature clay figurines of Sailor Moon… AND CINDER! All dressed up in her silver ball gown, with her cyborg hand and leg and everything. So much love. You can visit the creator's Etsy page here: Cirque du Clay.
(Warning: He also does Firefly characters. Prepare to covet.)
And last but certainly not least, check out this fabulous hand-painted Lunar Chronicles T-shirt!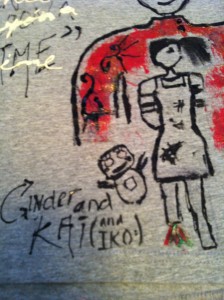 My favorite part: This adorable drawing of Iko. *squee!*
A thousand thank yous to EVERYONE who came out to a Scarlet tour event, and to you amazingly artistic people for such lovely and thoughtful gifts. I hope you had as much fun at the events as I did!