I'm scheduling this post in advance, so by the time it's posted I'll be – LEEEAAAVING… ON A JET PLANE!
I'm maybe a little bit excited.
I'm taking a blogging hiatus while I'm gone, so check back for more updates the first week of April. I'm planning some posts on taxes and book synopses, and my goodness, it's gonna be a blast.

Before I go – some quick announcements!

– UK FANS, you have two opportunities to see me next week:
On Sunday, I'll be on a panel at SunnyCon in Sunderland.
(A pass is required to attend this event.)
And on Tuesday, I'll be at Waterstones Bromley for a free book talk and signing!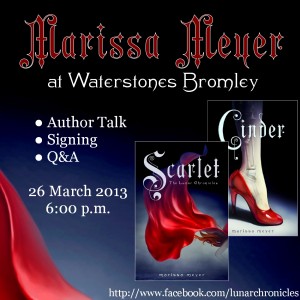 I am going to have some time to do a little sight-seeing, and while I have my personal wishlist of places to go, if you know of something I absolutely MUST DO while in London, let me know in the comments!

– Don't forget to enter the "Best Quiz Ever" Giveaway for a UK copy of SCARLET and more! Ends 4/1.

– Google Reader is Going Away!
If you read this blog and others on Google Reader, you probably already know that Google is getting rid of the program in July. Now is a great time to start looking for other blog-reading alternatives. This post from AuthorMedia has some suggestions.

See you in a couple weeks!