In case you missed the Cyborg Monday celebration over on Instagram (where I spend a lot of my social media time these days) there is so much news to share!
First up–and I couldn't be more excited!–are the brand new covers for Cinder, Scarlet, Cress, and Winter:
Aren't they amazing? I love love love these new covers. So much gratitude and awe to our illustrator, Tomer Hanuka (@tropical_toxic), and designer Rich Deas. Superstars!!!
All four will be released on February 4, 2020 and are available for pre-order. The Fierce Reads page has all your retailer links.
To go along with the new paperbacks, I'm going on a tour in the new year.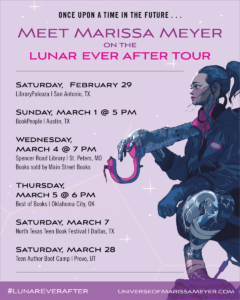 Please make sure to check the Fierce Reads events page for tour details, as some events are ticketed.
Feb 29, 2020, LibraryPalooza 2020, San Antonio, TX
Mar 1, 2020, 5:00pm, BookPeople, Austin, TX 78703
Mar 4, 2020, 7:00pm, Spencer Road Library, St. Peters, MO
Mar 5, 2020, 6:00pm, Best of Books, Oklahoma City, OK
Mar 7, 2020, North Texas Teen Book Festival, Dallas, TX
Mar 28, 2020, Teen Author Boot Camp, Provo, UT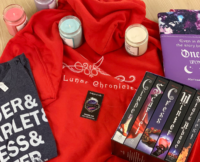 While you wait for the new books, go enter the Fierce Reads Cyborg Monday Sweepstakes – it's open until December 14. See the site for entry, eligibility, and prize details.
And once you're done with that, head on over to the Discussion Boards to share your thoughts and feelings about the books, new covers, characters, ships–whatever! It's the best place to hang out with Lunarctics just like you!