Want to get your hands on INSTANT KARMA goodies? Want to have a virtual meet and greet with me? 
The INSTANT KARMA Tour will be virtual, but there will still be chances to have an online meet and greet with me. Check out the special events page to get your tickets (tickets include a copy of INSTANT KARMA, a signed bookplate and a quick one-on-one meet and greet with me in the virtual signing line). Note: for international fans, Oblong Books & Music and Katy Budget Books are able to ship internationally. Please check with each store for more details.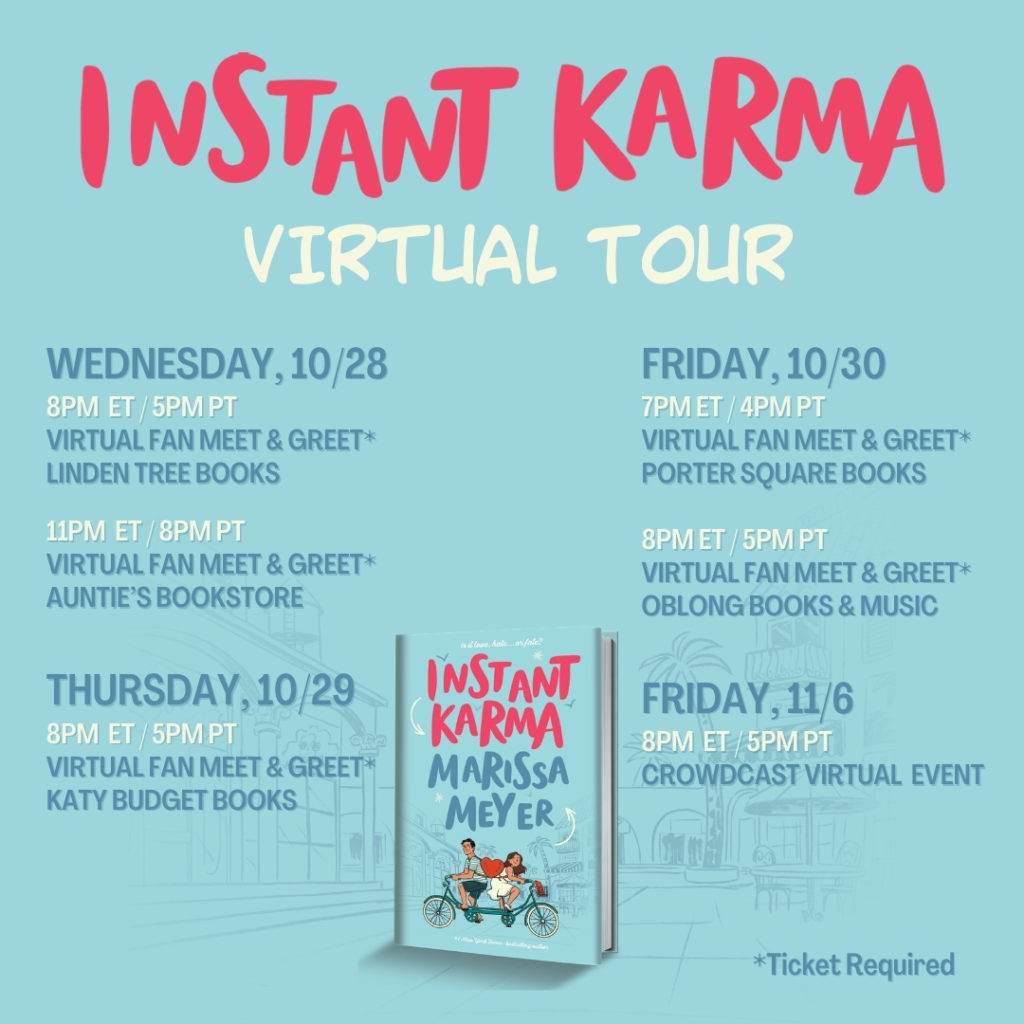 If you can't make it to one of the meet and greet events, you can still get swag! Preorder from one of the independent bookstores below to get your INSTANT KARMA tote bag.
Anderson's Bookshop
Antarctica Books, LLC
Appalachian State University
Bards Alley, LLC
Best of Books
Bethany Beach Books
Book & Game Company
Book Loft
Book Seller
Books & Books Warehouse
Books of Wonder
Books of Wonder UWS
Boulder Bookstore
Briar Patch
Browseabout Books
Brunner News Agency
Cavalier House Books
Classic Bookshop
Flyleaf Books
Gathering Volumes
Gibson's Bookstore
Global Concepts
Hicklebees
Indie Books, LLC
Innisfree Bookshop
Ivory Bill Enterprises, LLC
Jay & Mary's Book Center
Kew & Willow Books
Liberty Bay Books
Little Shop of Stories
Mainstreet Bookstore
Mystic Books Inc
Nonesuch Books & More
Northshire Information, Inc
Northshire Saratoga
Novel, LLC
Octavia Books
Old Town Books
Page & Palette
Parnassus Books
Queen Anne Book Company
Rediscovered Bookshop
Retail Redux, LLC
Rivendell Bookstore
River Ben Bookshop, LLC
Riverstone Books LLC
Savoy Bookshop & Café
Schuler Books & Music
Scrawl books
Second Star to the Right
Seminary Coop Bookstore Inc
Snowbound Book, Inc
The Bookloft, LLC
The Mitten Word Bookshop, LLC
The Next Page, Inc
The Well-Read Moose
Tombolo Books
Vintage Books
Watermark Books
Words Matter, LLC
Wordsmith Bookshoppe
Writer's Block Bookstore, LLC
Supplies are limited so be sure to call to confirm availability. 📚
Also! Don't forget to submit your preorder receipt from any retailer to claim your limited INSTANT KARMA enamel pin: https://read.macmillan.com/promo/instantkarmapreorder/  Swag is available while supplies last and pins are for US/Canada (except Quebec) only – check site for more details. 
And finally, don't forget to sign up for the giant online release party. It is free and open to everyone, but you must register: https://www.crowdcast.io/e/InstantKarma 
I hope to see you soon!