The final (I hope!) CRESS book tour schedule is posted below! If you can't come to any of the in-person events, I hope you'll join us for our two virtual ones!
***VIRTUAL EVENT***
The #SaveCRESS Twitter Chat
Monday, February 03, 9:00 EST / 6:00 PST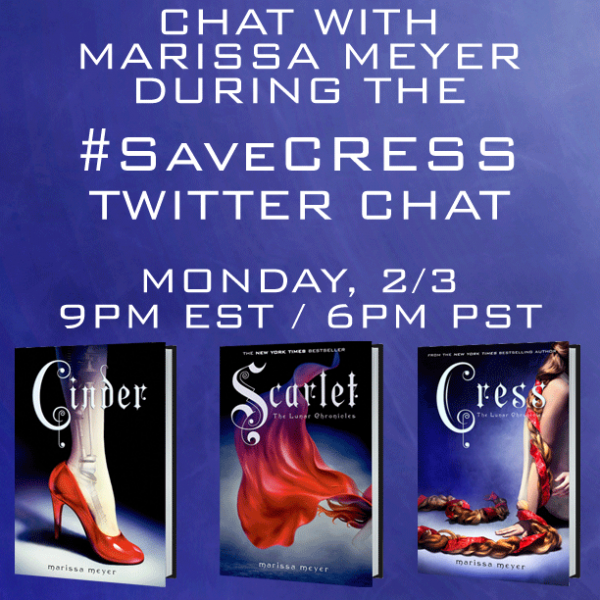 As Macmillan lovingly pointed out – once that chat starts there will only be a FEW HOURS LEFT before CRESS is available!
***VIRTUAL EVENT***
The CRESS Launch Party Livestream
Tuesday, February 04, 10:00 EST / 7:00 PST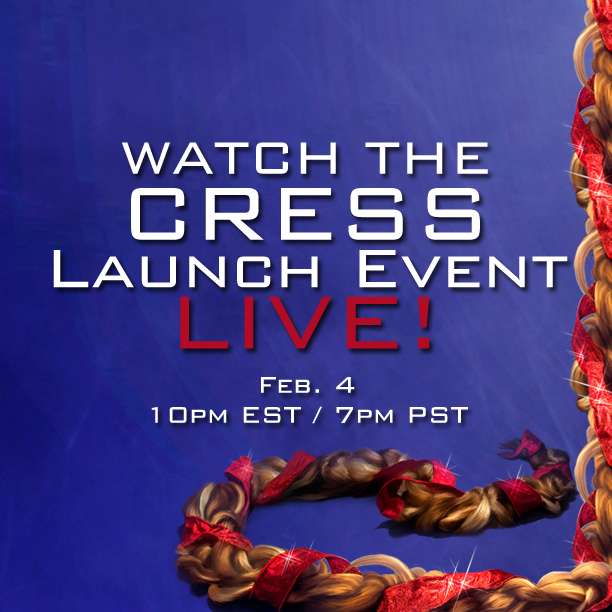 Fairy tales, music, costumes, Q&A, and more!
Watch the livestream at http://www.thelunarchronicles.com/featured
Tweet your questions during the livestream using #SaveCRESS and Marissa might answer them on stage. You could even win a Lunar Chronicles VIP prize!
THE CRESS BOOK TOUR – US & Canada
Tacoma, WA
Tuesday, February 04, 7:00 PM
Karen Hille Phillips Center (formerly Eastvold Hall)
Pacific Lutheran University
See all the crazy details here.
Pre-order CRESS and get your event ticket here.
Hood River, OR
Wednesday, February 05, 6:30 PM
Hood River County Library
212 Oak Street
Hood River, OR 97031
San Diego, CA
Thursday, February 06, 7:00 PM
San Diego Central Library
330 Park Blvd
San Diego, CA 92101
Corte Madera, CA
Friday, February 07, 6:30 PM
Book Passage
51 Tamal Vista Blvd
Corte Madera, CA 94925
Orem, UT
Saturday, February 08, 3:00 PM
Barnes & Noble
330 East 1300 South
Orem, UT 84058
Boulder, CO
Sunday, February 09, 4:00 PM
Boulder Bookstore
1107 Pearl Street
Boulder, CO 80302
Lansing, MI
Tuesday, February 11, 6:00 PM
Schuler Books
2820 Towne Centre Blvd
Lansing Charter Township, MI 48912
Washington DC
Wednesday, February 12, 7:00 PM
Politics and Prose
5015 Connecticut Avenue Northwest
Washington, DC 20008
New York, NY
Thursday, February 13, 6:00 PM  *note the changed start time!*
Books of Wonder
18 West 18th Street
New York, NY 10011
Lewisville, TX
Friday, February 14, 7:00 PM
Barnes & Noble
2325 Stemmons Freeway #401
Lewisville, TX 75067
Conroe, TX
Saturday, February 15
Montgomery County Book Festival
3200 College Park Drive
Conroe, TX, 77385
1:00 PM: It's More than Just Robots & Outer Space: Science Fiction Author Panel
3:30 PM: Keynote Speech
Austin, TX
Monday, February 17, 7:00 PM
Book People
603 North Lamar Blvd
Austin, TX 78703
Orlando, FL
Tuesday, February 18, 7:00 PM
Barnes & Noble
481 N. Alafaya Trail
Orlando, FL 32828
Burnaby, BC, Canada
Saturday, February 22, 2:00 PM
Chapters Metrotown
Toronto, ON, Canada
Monday, February 24, 2:00 PM
Toronto Public Library
Toronto, ON, Canada
Monday, February 24, 7:00 PM
Indigo Yorkdale
(Can't make any of these events! Don't worry – I have more coming up throughout all of 2014! I'll post further details in the coming weeks.)