I know, I know, we're all still super buzzed about the WINTER release (I hope you're all loving it!), and now I have yet more fantastic news!
Over the last four years, I've hosted a number of design contests and Lunar Chronicles fans have blown my mind time and again. You've made bookmarks, stickers, the official seal of Luna, flags for the six Earthen nations, and you've even carved amazing Cinder pumpkins!
See the previous contest entries on Pinterest here.
And now I am SO THRILLED to announce our most exciting contest yet!
---
THE CINDER LITOGRAPH DESIGN CONTEST
WHAT IS A LITOGRAPH?
Litographs is a company that makes art from books. Their designs are inspired by the stories themselves, then they stream the book's text in place of the original pixels, so that the image is composed of the text itself. The result is a work of art you can actually read, and they are stunning.
That art is then printed onto T-shirts, posters, and tote bags for readers and book lovers to enjoy! 
Check out www.Litographs.com to see examples of their work.
And now I'm working with them on an original line of merchandise inspired by Cinder, and you—yes, YOU, Lunartics—are going to help us come up with a Cinder-inspired design that will be turned into a line of Litographs products, including T-shirts, tote bags, and posters!
YOUR MISSION: Create a design to be used as the base for the original Cinder Litographs line of merchandise.
GUIDELINES
– The winning design will be used as the main art for the release of Cinder T-shirts, tote bags, and posters.
– Your design should be inspired by Cinder and/or speak to a key theme, or plot point, in the book. In other words, we want to be able to recall the book from your design. Note that your design should be Cinder specific, not general Lunar Chronicles. (I definitely recommend checking out their other literary lines for ideas and inspiration!)
– Your design should include graphics only. No text please (as the background will consist entirely of text!).
— Please do not use copyrighted images. All artwork should be your own creation.
– Open internationally. (HOORAY! Cheers and Fireworks!)
—Your design must fit the size and style qualifications as in the style guide below. That said, please do be creative!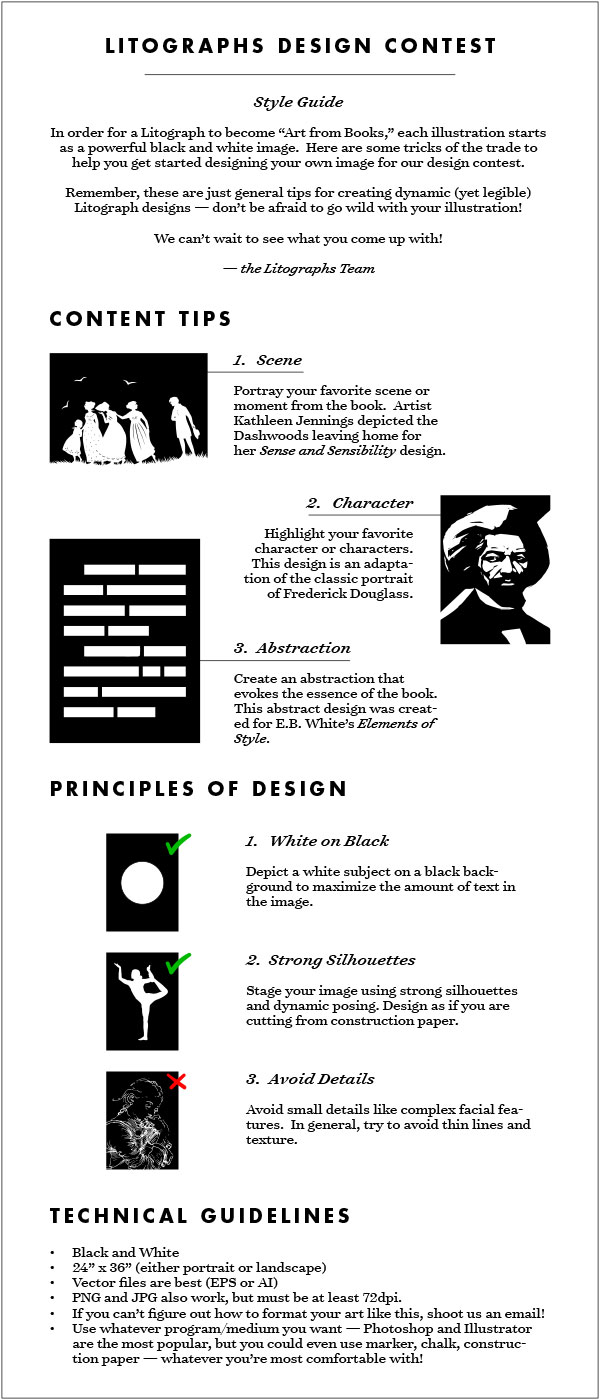 HOW TO SUBMIT
– Please submit only one design. If you submit more than one design, unfortunately your work will be disqualified.
– Share your design on any social media of your choosing and (optional) tell everyone how excited you are about seeing Cinder represented on some awesome Litographs merchandise!
– Once your design is finished, USE THIS TYPEFORM to submit your design and contact information. Your design will later be posted to my Pinterest page.
– Important: By submitting an entry to this contest you grant rights to use this design in forthcoming merchandise, and in display and promotional materials. Please read the terms of service within the typeform for more information.
– All entries must be received no later than midnight PST on Friday, November 27, 2015.
 
VOTING AND PRIZES
 Once all entries have been uploaded to my Pinterest page, Litographs and I will select the seven finalist (Likes and Repins from fans will be taken into account). Those seven finalists will be posted on this blog and fans and readers will be able to vote for the grand prize winner!
6 FINALISTS will each receive a $50 Litographs gift card. This can be redeemed for posters, T-shirts, tote bags, laptop decals, temporary tattoos, and other great literary goodies, including those soon-to-be available for Cinder! Plus, a signed copy of either Cinder or Winter!
ONE GRAND PRIZE WINNER will receive a $500 cash prize from Litographs, a signed set of all 5 Lunar Chronicles titles, and have his or her design featured on Litographs' Cinder T-shirts, tote bags, and posters to be available at www.Litographs.com and indie bookstores around the country!!!
I am so, so, so excited to see what you all come up with, and cannot wait to have my own Cinder Litographs tote bag!!!
Happy designing, and GOOD LUCK!