Now that we're less than a month from the CURSED release, it's time to recap and reveal the preorder gifts!
Just announced: if you preorder your copy of CURSED from a participating independent bookstore, you will receive this ~gasp~ GORGEOUS art print by Jessica DeLucchi featuring Gild and Serilda! (And yes, those are gold foil details!). See below for the participating independent bookstores. 
Also, don't forget the other preorder goodies:
Everyone who preorders CURSED and fills out the required form will receive… a bonus scene retold from Gild's point-of-view! I decided to do the Equinox / Eostrig's Day scene from GILDED, which was a personal favorite, because… well, you know. I loved getting into Gild's thoughts, and can't wait to share it with you!
US & Canada-based readers will
also
receive a special art print! Look at this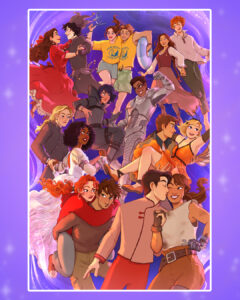 poster, again by
Jessica DeLucchi
(who also illustrated last year's epic poster of MM Universe heroines!). Don't you love it?!
How to get your goodies:
1. Preorder your copy from one of the indie bookstores below to get ALL the gifts, or from
Bookshop.org
 or your other preferred bookstore 
here
.
2. Upload your receipt using the applicable form below. Note: you must complete this step.
US/Canada
: Upload your preorder receipt to 
this form
 before 11/8, and you will automatically receive the short story via email on 11/8,
plus
the art print in the mail shortly thereafter!
International
readers, please be sure to use 
this form
 to upload your receipt in order to receive the story!
Indie Bookstores participating in the Gild and Serilda poster campaign – supplies are limited so be sure to call to confirm availability:
CHANGING HANDS BOOKSTORE (TEMPE, AZ)
CHANGING HANDS BOOKSTORE (PHOENIX, AZ)
A GREAT GOOD PLACE (OAKLAND, CA)
BAY BOOKS (CORONADO, CA)
BOOK PASSAGE (CORTE MADERA, CA)
THE BOOK SELLER (GRASS VALLEY, CA)
BOOKSHOP SANTA CRUZ (SANTA CRUZ, CA)
BOOKSHOP WEST PORTAL (SAN FRANCISCO, CA)
BOOKS INC (PALO ALTO, CA)
BOOKS INC (SAN FRANCISCO, CA)
BOOKS INC (SAN FRANCISCO, CA)
BOOKS INC (MOUNTAIN VIEW, CA)
BOOKS INC (ALAMEDA, CA)
BOOKS INC (CAMPBELL, CA)
BORDERLANDS BOOKS (SAN FRANCISCO, CA)
DARK CARNIVAL (BERKELEY, CA)
KEPLER'S BOOKS (MENLO PARK, CA)
MYSTERIOUS GALAXY BOOKSTORE (SAN DIEGO, CA)
ONCE UPON A TIME BOOKSTORE (MONTROSE, CA)
THE BOOKIES BOOKSTORE (DENVER, CO)
BOULDER BOOKSTORE (BOULDER, CO)
OUT WEST BOOKS (GRAND JUNCTION, CO)
RJ JULIA BOOKSELLERS (MADISON, CT)
RIVER BEND BOOKSHOP (GLASTONBURY, CT)
WESLEYAN RJ JULIA BOOKSTORE (MIDDLETOWN, CT)
BETHANY BEACH BOOKS (BETHANY BEACH, DE)
BROWSEABOUT BOOKS (REHOBOTH BEACH, DE)
SAN MARCO BOOKS AND MORE (JACKSONVILLE, FL)
SUNSHINE BOOK CO (CLERMONT, FL)
TOMBOLO BOOKS (SAINT PETERSBURG, FL)
WRITER'S BLOCK BOOKSTORE (WINTER GARDEN, FL)
WRITER'S BLOCK BOOKSTORE (WINTER PARK, FL)
BOOK BOUND BOOKSTORE (BLAIRSVILLE, GA)
E. SHAVER, BOOKSELLER (SAVANNAH, GA)
GOTTWALS BOOKS (BYRON, GA)
HORTON'S BOOKS & GIFTS (CARROLLTON, GA)
RIGHTON BOOKS (SAINT SIMONS ISLAND, GA)
REDISCOVERED BOOKSHOP (CALDWELL, ID)
REDISCOVERED BOOKSHOP (BOISE, ID)
THE BOOK CELLAR (CHICAGO, IL)
THE BOOK TABLE (OAK PARK, IL)
BOOKENDS & BEGINNINGS (EVANSTON, IL)
WORDSMITH BOOKSHOPPE (GALESBURG, IL)
FABLES AND FAIRY TALES BOOKSHOP (MARTINSVILLE, IN)
MORGENSTERN BOOKS (BLOOMINGTON, IN)
WATERMARK BOOKS & CAFE (WICHITA, KS)
CARMICHAEL BOOKSTORE (LOUISVILLE, KY)
CARMICHAEL'S BOOKSTORE (LOUISVILLE, KY)
COFFEETREE BOOKS (MOREHEAD, KY)
JOSEPH-BETH BOOKSELLERS (LEXINGTON, KY)
CAVALIER HOUSE BOOKS (DENHAM SPRINGS, LA)
OCTAVIA BOOKS (NEW ORLEANS, LA)
AESOP'S FABLE (HOLLISTON, MA)
AN UNLIKELY STORY (PLAINVILLE, MA)
BELMONT BOOKS (BELMONT, MA)
BOOKLINK BOOKSELLERS (NORTHAMPTON, MA)
MAXIMA BOOK CENTER (LEXINGTON, MA)
THE ODYSSEY BOOKSHOP (SOUTH HADLEY, MA)
THE BOOKLOFT (GREAT BARRINGTON, MA)
A LIKELY STORY BOOKSTORE (SYKESVILLE, MD)
CURIOUS IGUANA (FREDERICK, MD)
BOOKSWEET (ANN ARBOR, MI)
BRILLIANT BOOKS (TRAVERSE CITY, MI)
MCLEAN & EAKIN BOOKSELLERS (PETOSKEY, MI)
NEW STORY COMMUNITY BOOKS (MARSHALL, MI)
SCHULER BOOKS & MUSIC (GRAND RAPIDS, MI)
SCHULER BOOKS (OKEMOS, MI)
SCHULER BOOKS (ANN ARBOR, MI)
SNOWBOUND BOOKS (MARQUETTE, MI)
MAIN STREET BOOKS (SAINT CHARLES, MO)
LEFT BANK BOOKS (ST LOUIS, MO)
NEIGHBORHOOD READS (WASHINGTON, MO)
THE NOVEL NEIGHBOR (SAINT LOUIS, MO)
LEMURIA BOOKS (JACKSON, MS)
ADVENTURE BOUND BOOKS (MORGANTON, NC)
BOOKMARKS (WINSTON SALEM, NC)
EPILOGUE (CHAPEL HILL, NC)
MALAPROP BOOKSTORE (ASHEVILLE, NC)
QUAIL RIDGE BOOKS (RALEIGH, NC)
PAGE 158 BOOKS (WAKE FOREST, NC)
THE COUNTRY BOOKSHOP (SOUTHERN PINES, NC)
GIBSON'S BOOKSTORE (CONCORD, NH)
BOOKERY MANCHESTER (MANCHESTER, NH)
TOADSTOOL BOOKSHOP (NASHUA, NH)
BOOKHAMPTON (EAST HAMPTON, NY)
BOOKS OF WONDER (NEW YORK, NY)
BOOKSTORE PLUS (LAKE PLACID, NY)
KEW & WILLOW BOOKS (KEW GARDENS, NY)
LIFT BRIDGE BOOK SHOP (BROCKPORT, NY)
MYSTERIES ON MAIN STREET (JOHNSTOWN, NY)
THE DOG EARED BOOK (PALMYRA, NY)
OBLONG BOOKS (MILLERTON, NY)
OBLONG BOOKS (RHINEBECK, NY)
THE GOLDEN NOTEBOOK (WOODSTOCK, NY)
TALKING LEAVES BOOKS (BUFFALO, NY)
THE BOOK LOFT OF GERMAN VILLAGE (COLUMBUS, OH)
BEANBAG BOOKS (DELAWARE, OH)
JOSEPH-BETH BOOKSELLERS (CINCINNATI, OH)
THE LEARNED OWL BOOKSHOP (HUDSON, OH)
BEST OF BOOKS (EDMOND, OK)
BEACH BOOKS (SEASIDE, OR)
MAGGIE MAE'S KIDS BOOKSHOP (GRESHAM, OR)
OREGON BOOKS & GAMES (GRANTS PASS, OR)
THE BOOK NOOK (CANBY, OR)
THIRD STREET BOOKS (MCMINNVILLE, OR)
WAUCOMA BOOKSTORE (HOOD RIVER, OR)
PENGUIN BOOKSHOP (SEWICKLEY, PA)
RIVERSTONE BOOKS (PITTSBURGH, PA)
RIVERSTONE BOOKS (PITTSBURGH, PA)
FICTION ADDICTION (GREENVILLE, SC)
ITINERANT LITERATE BOOKSTOP (NORTH CHARLESTON, SC)
M. JUDSON BOOKSELLERS (GREENVILLE, SC)
NOVEL. (MEMPHIS, TN)
PARNASSUS BOOKS (NASHVILLE, TN)
FRONT STREET BOOKS (ALPINE, TX)
THE BOOK NOOK (BRENHAM, TX)
VILLAGE BOOKS (THE WOODLANDS, TX)
DOLLY'S BOOKSTORE (PARK CITY, UT)
THE KING'S ENGLISH BOOKSHOP (SALT LAKE CITY, UT)
THE LEGENDARIUM (SALT LAKE CITY, UT)
BARDS ALLEY BOOKSHOP (VIENNA, VA)
FOUNTAIN BOOKSTORE (RICHMOND, VA)
THE BOOK DRAGON SHOP (STAUNTON, VA)
THE WINCHESTER BOOK GALLERY (WINCHESTER, VA)
PHOENIX BOOKS (ESSEX JUNCTION, VT)
PHOENIX BOOKS (BURLINGTON, VT)
BALLAST BOOK COMPANY (BREMERTON, WA)
BOOK & GAME COMPANY (WALLA WALLA, WA)
BRICK & MORTAR BOOKS (REDMOND, WA)
INVITATION BOOKSHOP (GIG HARBOR, WA)
VILLAGE BOOKS AND PAPER DREAMS (BELLINGHAM, WA)
ISLAND BOOKS (MERCER ISLAND, WA)
TRAIL'S END BOOKS (WINTHROP, WA)
VILLAGE BOOKS AND PAPER DREAMS (LYNDEN, WA)
VINTAGE BOOKS (VANCOUVER, WA)
A ROOM OF ONE'S OWN (MADISON, WI)
KISMET BOOKS (VERONA, WI)
BOOKS & COMPANY (OCONOMOWOC, WI)