blog
The Happy Writer Podcast – Survey and Social Media
Posted on:
5th May 2020 /
Categorized:
The Happy Writer Podcast
Hello readers and listeners! Hopefully you've been well and have been enjoying The Happy Writer podcast so far. Now that there are several episodes, it felt like a good time to get your feedback. Click here to fill out a short(ish) survey. It is anonymous but if you include your email, you will be entered to win a signed copy of one of my books (your choice). Open internationally and ends May 18.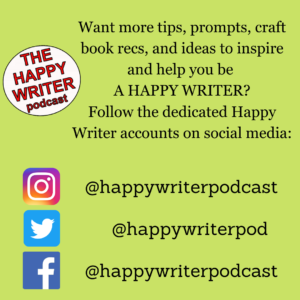 While you're there, make sure to subscribe to the podcast at your favorite service and follow the podcast social media accounts. We're sharing podcast info, quotes, writing prompts, tips, and more–all to help you be a more happy writer.
1 Comment