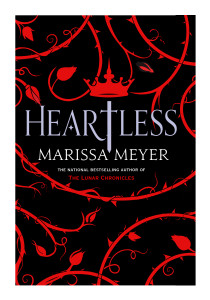 You are cordially invited to…
THE HEARTLESS MAD HATTER TEA PARTY
Seattle, WA
*
When: Monday, November 7, 7:00p.m. (Doors open at 6:00pm – arrive early for the best seats!)
Where: Town Hall Seattle, Seattle, WA
What: Books, Tea, Raffles, Games… and activities of the mad and curious sort
Details: Don your finest hat and come join #1 New York Times bestselling author Marissa Meyer for a Mad Hatter Tea Party to celebrate  the launch of HEARTLESS, the stunning prequel to Alice in Wonderland about the Queen of Hearts. The event will include a presentation from Marissa, book signing, delicious treats, and plenty more.
Crazy hats or whimsical costumes are encouraged.
*
Ticketing: PURCHASE YOUR BOOK AND TICKET HERE.
This is a ticketed event. Tickets can be purchased in advance of the event online or at the door. The price of the ticket includes a copy of HEARTLESS and a ticket for a raffle at the event. Multiple ticketing options are available online. Call Elliott Bay Book Company with any questions at 206-624-6600 (or email events@elliottbaybook.com)  if you have a special circumstance to discuss.
*
The Raffle and Charity: Every guest will receive one raffle ticket, for an assortment of amazing prizes. More tickets will be available to purchase during the event. All raffle tickets benefit the organization Save a Child's Heart, which provides urgently needed pediatric heart surgery for children from developing countries.
*
The Signing: Doors will open at 6:00pm. Signing line letters will be distributed as guests arrive. Marissa will personalize all copies of HEARTLESS. She will sign, but not personalize, all books from the Lunar Chronicles series. Pre-signed copies of HEARTLESS will be made available for anyone who can not stay for the signing.
*
Getting There: There is very limited parking available at Town Hall Seattle, with overflow parking available at the nearby Seattle Convention Center. Please plan on leaving extra time to find parking. For directions and more information, visit the Town Hall Seattle website here.
*
Are you going? Let us know on the Facebook event page!
I'm SO EXCITED for this book to hit shelves and hope to see many of you at the party!