Note: I don't blog much these days and you'll find more frequent news, contests, and information on Instagram and Twitter, so please follow me there. But for this BIG news, I wanted to make sure everyone sees it!
I am SO RIDICULOUSLY EXCITED to be announcing my next book!!!
Here are the quick details: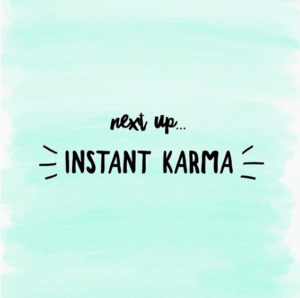 Title: INSTANT KARMA
Genre: Contemporary romance with a magical twist ❤️
Main character: Prudence
Love interest (or should I say, love/hate interest?): Quint
Release date: November 2020
I'll be posting on Instagram and Twitter about some of my inspirations for this book over the next couple of weeks, but for now, head over to Bustle to read the book's description and a brief interview where I get to talk romance, characters, and… bonus! tease a couple other projects in the works as well!
I've seriously been having so much fun writing this book and cannot WAIT to share more details with you guys!!!!!