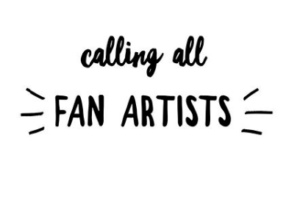 One of my FAVORITE things about being a writer is seeing all the amazing fan art you guys create for the worlds and characters! (See past #fanartfriday posts on Instagram for proof!) And now you can put that talent toward a new contest!
For my American and Canadian fans, the fanart contest is put on by @FierceReads:
THE PRIZES
ONE Grand Prize Winner (chosen by me!) will win… *drum roll* A TRIP TO MY NYC SUPERNOVA LAUNCH EVENT! This is not a drill. I cannot WAIT to meet the winner!
–
NINETEEN runners-up will have their art featured in an exclusive Fan Art Wall displayed at ALL of my Supernova Tour events! –
HOW TO ENTER
Submit your #RenegadesTrilogy fan art by 8/26 at http://bit.ly/2XUzMFW! Note: this is not an Instagram contest – you must enter via the online form.
⠀⠀
Note: THIS contest is open to US and Canada only (because it's run by my US publisher and legal mumbo jumbo won't allow them to accept international entries)
---
For my international fans, I'm running a separate contest on Instagram.
THE PRIZES
FIVE WINNERS, selected by yours truly, will each have their art featured on the fan art gallery wall at ALL of my Supernova Tour events! Plus they will receive a signed copy of SUPERNOVA and some epic Renegades swag!
⠀⠀⠀⠀
HOW TO ENTER
Post your Renegades-inspired fan art on Instagram by August 26 (11:59pm PST). TAG IT: #RenegadesAbroad #RenegadesFanArt (please use both tags – if it's not tagged, it's not entered!)
Please include your country of residence somewhere in the description. (This is for my own data-gathering purposes and will have no impact on your chance of winning.)
Note: The Instagram contest is NOT open to American/Canadian residents – please enter the Fierce Reads fanart contest above.
GOOD LUCK!
---
While you wait for Supernova:
EVENTS: I will be at the Seattle Children's Book Festival on Saturday, Sept. 28.
TOUR: I will be announcing the dates and locations for my Supernova tour soon!
SUPERNOVA PRE-ORDER CAMPAIGN: Pre-order Supernova and upload your receipt via this online form before August 14th to have your name printed in the paperback of Archenemies! Those who submit their receipt now will also receive an exclusive Universe of Marissa Meyer pin pack! https://read.macmillan.com/promo/supernovapreorder1/
ARE YOU A SUPERFAN? Take the Marissa Meyer superfan quiz (score 80% or higher and it unlocks the first chapters from Supernova): https://renegades.universeofmarissameyer.com/superfan-quiz/
FYI: I wrote a writing pep talk that will be included in NaNoWriMo's new "Brave the Page" book, coming out Aug. 27.