A few weeks ago my husband and I made a trip down to northern California, including a special detour to San Jose so I could cross off one of my life-long goals: to finally see the Winchester Mansion (or Winchester Mystery House). This house has been on my bucket list since I was a kid, ever since I heard the completely bizarre and fascinating history behind the house.
It was built by Sarah Winchester, wife of William Winchester (of the famous Winchester rifles). The rumor/myth/belief behind the house is that, after her husband died, Mrs. Winchester was told by a Boston psychic that the spirits of those killed by Winchester guns would haunt her the rest of her life, unless she built a house . . .  but never finished it.
With those orders in hand, Mrs. Winchester bought a small farmhouse near San Jose, CA, and started building.
Construction continued 24 hours a day, 7 days a week, for 38 years.
38 YEARS.
Then, on September 5, 1922, Mrs. Winchester was found dead of heart-failure in her bed. Construction stopped immediately. As so much mystery and curiosity had surrounded the house, it was purchased by a private company and opened for public tours within a year.
According to the web site, the sprawling mansion contains 160 rooms, 47 stairways, 47 fireplaces, 13 bathrooms, and 6 kitchens. Much of it was left unfinished (including nails half-driven in, which seemed to annoy my carpenter husband a great deal).
And it is bizarre. There's a stairway that runs up into the ceiling, a door that opens up into nowhere, cabinet doors that open onto walls, a window in the floor, and (my personal favorite) a séance room where Mrs. Winchester would commune with the spirits nightly. There was only one entrance to the séance room – for which Mrs. Winchester held the only key – but there are three exits. One door opens up to a drop that would land a person in a kitchen sink one floor below, and one exit has a door handle only on the side of the séance room – from the dressing room it leads into, it appears to be just a paneled wall.
Why so much kookiness? There are two theories – one, that Mrs. Winchester had no training in construction or architecture and simply didn't know what she was doing, or there's the more intriguing theory that she was attempting to confuse the spirits by building so many nonsensical things into her house.
The 160-room mansion was a treat to visit, for its fascinating history, beautiful Victorian architecture, and, of course, for all the story fodder. If a crazy lady trying to confuse dead spirits by building a mansion-turned-carnival house doesn't spark some writer-y ideas, I don't know what will. If you're ever in Northern California, I definitely recommend checking it out!
Unfortunately, picture aren't allowed inside the house, but here are some I took from the grounds: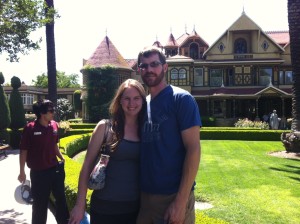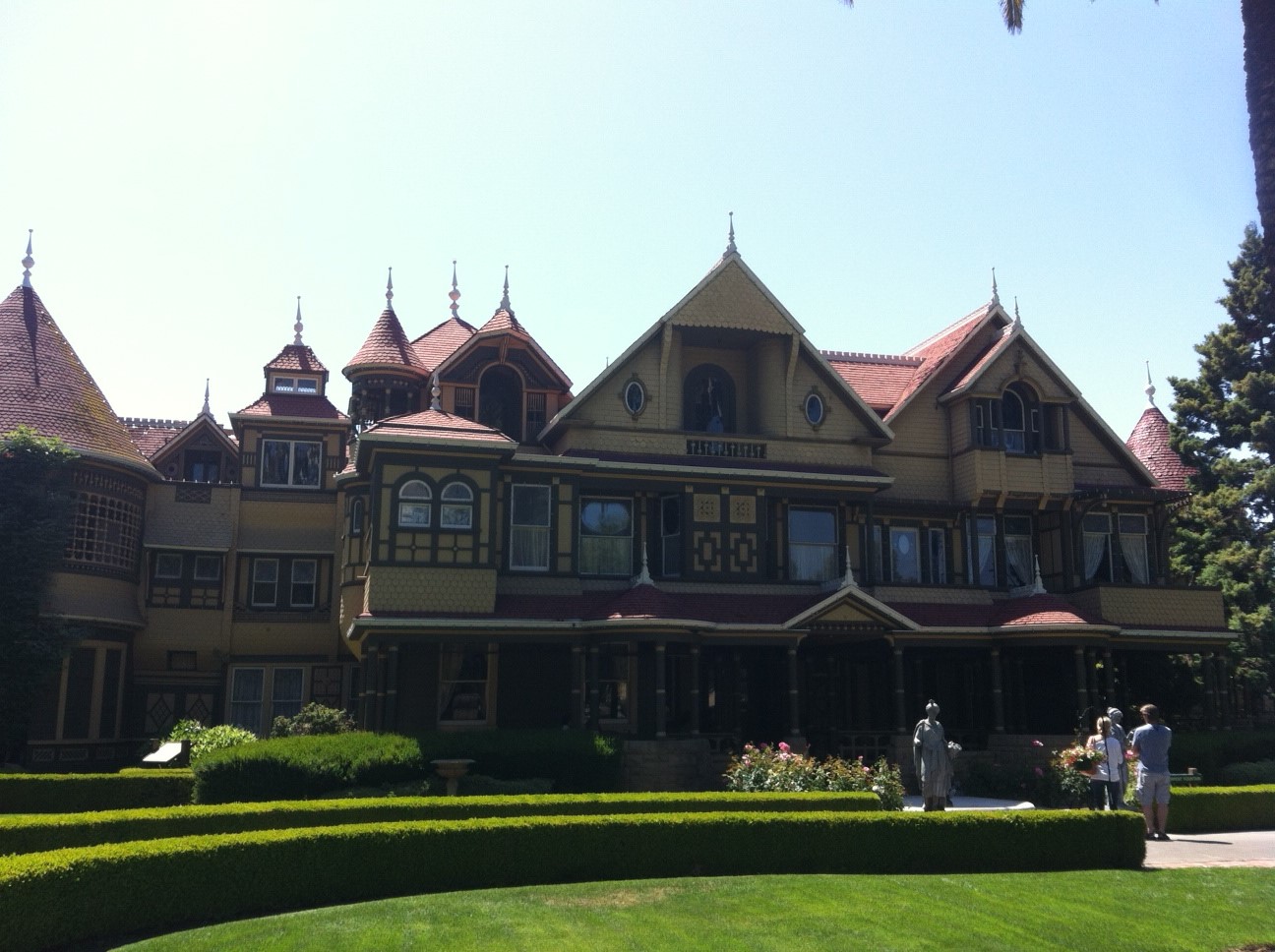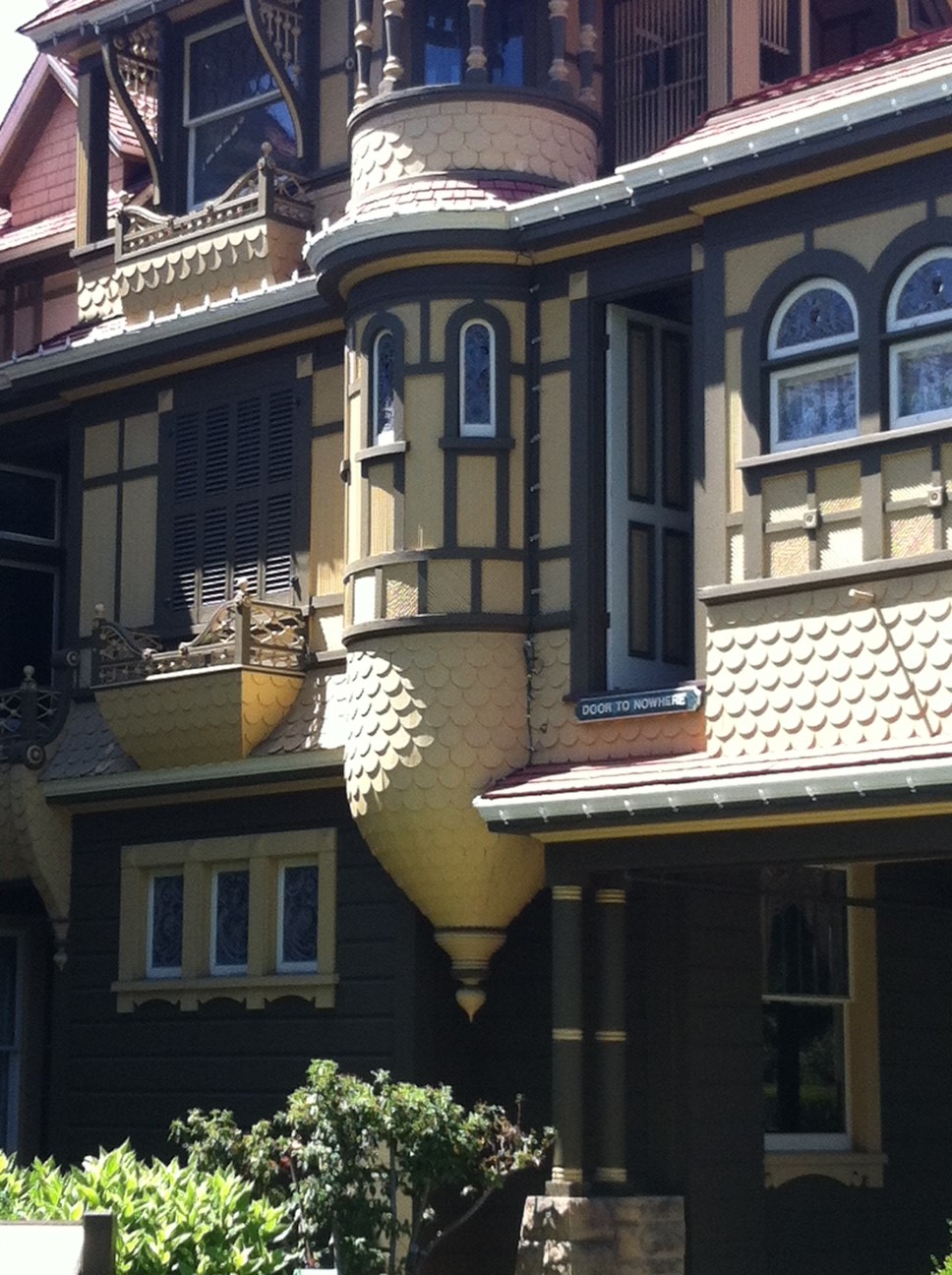 (The door to nowhere.)
Learn more about the house at http://www.winchestermysteryhouse.com/.