Three weeks! I can't hardly believe it, but Cress comes out in just three weeks . . . and guess what! So does the paperback edition of Scarlet, which will also be hitting bookshelves on February 4.
There are fifty pages of bonus materials in the paperback edition, including: "The Queen's Army," a companion short story; a Cress teaser; Q&A with yours truly; book discussion questions; and a we love bloggers! appreciation page.
In celebration, all this week is a special Scarlet blog tour—complete with lots of opportunities to win great prizes and free books!
Monday January 13: My Shelf Confessions
On the Lunar Chronicles' science-fiction / fairy tale twists . . .
Tuesday January 14: Reader of Fictions
On some seriously swoonworthy boys . . .
Wednesday January 15: Scott Reads It
On one terrifying villain . . .
Thursday January 16: Michelle and Leslie's Book Picks
On the Lunar Chronicles' global settings and their futuristic glory (and chaos) . . .
Friday January 17: Book Brats
On our strong and inspiring heroines . . .
For your best chance to win copies of Cinder and Scarlet, be sure to follow the complete blog tour and enter all the giveaways!
But that isn't all—you can also win awesome prizes by joining in two, that's right, TWO read-alongs happening this month.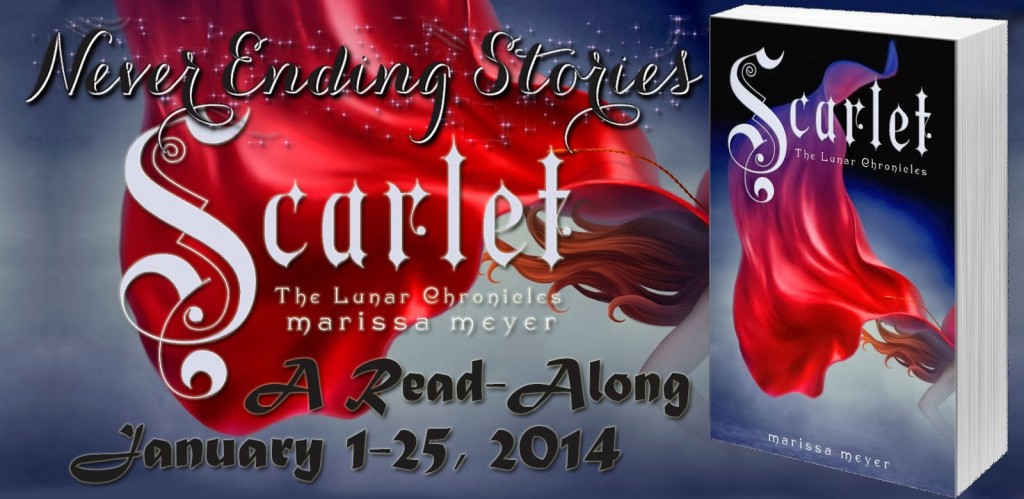 (Visit http://www.neverendingstoriesbookblog.com/2013/12/scarlet-by-marissa-meyer-read-along.html for details.)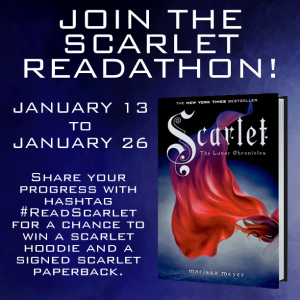 (Visit http://www.macteenbooks.com/ya/join-the-scarlet-by-marissa-meyer-readathon/ for details.)
Both read-alongs are drumming up plenty of Lunartic chatter, fanart, and fun, and both come with prizes! So grab a copy of Scarlet and get reading (or re-reading) today!