I am SO EXCITED to be posting the details for the CRESS launch party! If you live anywhere in or near Western Washington, I highly recommend making the drive, because it will be worth it.
WHAT: Celebrate the launch of CRESS: Book Three of The Lunar Chronicles by Marissa Meyer! Be entertained, eat some food, and get your books signed!
WHEN: Tuesday, February 4. Doors open at 6:30. Show begins at 7:00. Book signing to follow.
HOSTED BY: Garfield Book Company at PLU
WHERE: Karen Hille Phillips Center (formerly Eastvold Hall) at Pacific Lutheran University in Tacoma, WA
PARKING: There are two parking lots on the corners of Garfield & Park Ave. (On this map: Mortvedt Lot and Harstad Lot. The event will be held at #25 Eastvold Hall.)
TICKETS: Due to limited seating, this will be a ticketed event. See below.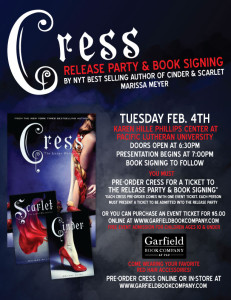 Q: I can't wait!! How do I get a ticket and ensure a seat at the event?
Get your ticket by pre-ordering CRESS from Garfield Book Co. Each CRESS pre-order comes with one event ticket. Each person must present a ticket to be admitted into the launch party.
OR you can purchase just the event ticket for $5.00 online at http://www.garfieldbookcompany.com. (Tickets for children under 10 are free.)
Q: I'm from Seattle/Portland/Oklahoma. Is this party really worth the drive to Tacoma?
Abso-friggin-lutely! The CRESS Launch Party will include:
– Marissa Meyer talking about her inspiration for The Lunar Chronicles, telling at least one fairy tale (Marissa-style), answering questions, and generally making a great hullabaloo about the fact that she's written three books now, holy cow, when did that happen?
– Special musical performances by singer/songwriters Angie Lynn and Dave Hannon
– Special Lunar Chronicles balloon art by Dr. Twistin
– Hand and body paintings by local henna artists
– A costume contest
– Salon Ish facilitating donations to Locks of Love
– Raffle prizes
– Swag
– Book signing
– FREE FOOD! <~ if that didn't convince you, you may be a lost cause.
Q: I'm coming to the party and I'm psyched!! How can I be a part of the festivities?
All guests are encouraged to wear red hats or hair accessories. (For Cinder everyone wore red shoes, for Scarlet it was red scarves—it's a super fun way to dress up for the occasion!)
If you don't have any red hair accessories, or you forget—never fear! We should have special CRESS hairbands available for purchase, hand-made by my own mom, who also made the special Scarlet scarves from last year, because she's all amazing and stuff.
Overachievers are encouraged to wear Lunar Chronicles-inspired costumes. Depending on participation, we're hoping to host a costume contest, where you could win a really awesome prize!
Do you have un-bleached hair longer than 10 inches? Consider donating it to our Locks of Love campaign! In return, you'll receive awesome Lunar Chronicles goodies and free swag from Salon Ish in Puyallup. If you aren't sure if your hair fits the requirements, our volunteer stylists will be able to help.
PLUS, if you would like to volunteer your hair during the livestreamed show, you will win an even bigger prize! Please comment if you're interested.
(Locks of Love is a non-profit organization that provides high-quality hairpieces to children in the United States and Canada suffering from long-term medical hair loss. What better way to celebrate Rapunzel's lovely locks?)
Q: Can I buy additional copies of CRESS and/or CINDER and SCARLET for signing?
Yes, indeed! Bring and purchase as many books as you like. I'll sign until my hand falls off. Or PLU kicks us out. Whichever comes first.
Q: I can't come to the party and my heart is breaking! How else can I be a part of the fun?
Never fear, Lunartics! The CRESS launch party is going to be livestreamed, so anyone far and wide can partake in the entertainment.
Details are still being worked out. For now—mark your calendar for Tuesday, February 4, at 7:00 PST.
You will also have the opportunity to ask questions during the livestream. If your question is chosen, I'll answer it on-stage, and you could even win a special VIP prize.
I'll post more information on that once I have it.
Closing statement: Eeeeeeeehhhh I can't wait!!