This fantastic review popped up in the Shelf Talker newsletter yesterday! Twelve more days before the release!!
(FYI – it's a tiny bit spoilery, so if you really hate having advance information, I suggest skipping this one!)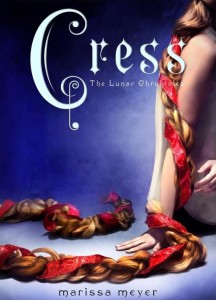 Cress by Marissa Meyer (Feiwel & Friends//Macmillan, $18.99 hardcover, 560p., ages 12-up, 9780312642976, February 4, 2014)
Marissa Meyer continues her brilliant bending of classic fairytales in her Lunar Chronicles with this riff on Rapunzel.
Cress lives imprisoned in a satellite, rather than in a tower. She is a shell–with none of the powers of most Lunars–but is also a skilled hacker and tech wiz. In Cinder, Cress warned the cyborg mechanic of the intent of Levana, Queen of Luna, to marry Emperor Kai, kill him and, from her seat as heir to the Commonwealth, take over Earth. Thanks to Cress, the Lunars have a complete surveillance system to track the emperor's comings and goings. But that also means Cress knows how to dismantle the system.
As she did in Scarlet, Meyer crafts a self-contained story in this third volume, while building on the overarching tale of Cinder, whose impossible love for Emperor Kai and devotion to her adopted homeland, Earth, drives her to halt Queen Levana's plan. If it is possible to ramp up the suspense, Meyer does so here, beginning with a failed attempt by Cinder and Captain Thorne to rescue Cress from her satellite. As with Rapunzel, the witch (here Levana's chief thaumaturge, Sybil) lies in wait. The rescue turns into a part kidnapping (Sybil kidnaps Scarlet; Sybil's pilot winds up on Cinder's ship), part fortuitous mishap: Captain Thorne and Cress are thrown together, and both Cinder's and Cress's conveyances wind up on Earth.
Meyer takes the discussion of earth's inhabitants, cyborgs and lunars, to a new level, drawing parallels to modern society's fears of immigration and of "the other," and the perils of information-gathering, eerily akin to the N.S.A. debate (Cress "knew intimately how much access Queen Levana had to Earth's net and all those comms that Earthens mistakenly believed were private"). Meyer once again creates nuanced characters that grow in complexity–as Captain Thorne develops a moral backbone, Cinder discovers a dark side to her potential power ("More than anything, I'm afraid that… the more I fight [Levana] and the stronger I become, the more I'm turning into her").
Meanwhile, Levana and Kai's wedding date edges closer. Cinder discovers unexpected allies–and foes. Dr. Erland returns, paying a key role in revelations about the rampant letumosis plague, for which Levana possesses the antidote. Events unfold at a breakneck pace, and we won't know for sure if Cinder's audacious plan to halt Levana will work until the fourth and final installment, slated for February 2015. Readers will be anxiously orbiting until then. —Jennifer M. Brown
Shelf Talker: In Marissa Meyer's third installment of the Lunar Chronicles, Cress, trapped in a satellite, holds the key to thwarting Queen Levana's diabolical plot to rule Earth.