I saw the hashtag #DressforCress on Twitter a few days ago and got SUPER excited. (Pajamas and costumes making up my two favorite dress codes.) What better way to show your Lunarcy and celebrate Cress's launch than dressing for the occasion?
Whether you're coming to the Launch Party in Tacoma, WA, or any of my signings during the tour, or just heading to your local bookstore to pick up your book, here are some ideas for Lunar-izing your ensemble.
(And remember, if you wear a costume to the launch party, you could win a prize!)
Keeping It Simple
Red is the color of the series, and red hair accessories are particularly fitting for our Rapunzel tie-in! Choose from hats, ribbons, bows, and barrettes to represent Cress, or hark back to Cinder and Scarlet with red shoes or hoodies!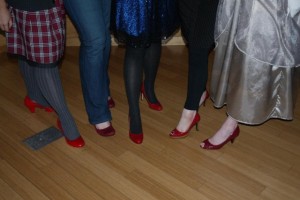 You could also cyborg yourself with hand-painted prostheses (for the artistic types) or these completely awesome android leggings.
Can't go all crazy like? Hint at your geekdom with your favorite mechanic-worthy accessory, like this cool wrench pin:
For Overachievers
For those of you who like to broadcast your awesomeness to the world, go all out with a Lunar Chronicles costume!
Cinder is all about the utilitarian, with cargo pants, work gloves, and a handy messenger bag.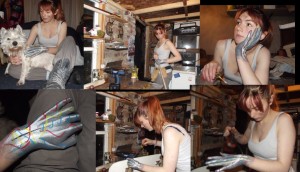 Cinder Linh Cosplay by EchoCat39 on deviantART
Or get gussied up with a ball gown and silk gloves . . . just don't forget the grease stains!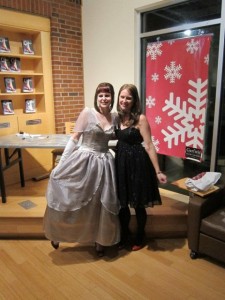 Scarlet, farm girl that she is, can generally be found in dirty tennis shoes, torn jeans, and, of course, her signature red hooded sweatshirt.
Cress is all about comfort in her satellite prison, with worn cotton dresses and bare feet . . . and long, long, long hair.
Or be devious with a villain costume! Levana and her veil or the thaumaturge coats (for those of you with sewing skills) could be really cool. If I do say so myself.
No matter how simple or complex you decide to go, I hope to see some fun outfits at the launch party and on tour! If you #DressforCress on February 4,please tweet me a picture—I want to see!!!