SCARLET's first professional review is in, and it's glowing! YAY!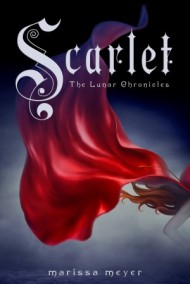 BOOKLIST
Issue: December 15, 2012
★ Scarlet. Meyer, Marissa (Author) Feb 2013. 464 p. Feiwel and Friends, hardcover, $17.99. (9780312642969).
Cinder, the beautiful lunar cyborg mechanic, is back, this time in what initially appears to be parallel story lines with Scarlet, the granddaughter of a former military pilot turned farmer in the small town of Rieux, France.
After her midnight fall down the palace steps and her imprisonment, Cinder is a media sensation, escaping the New Beijing prison with Captain Carswell Thorne, a handsome if rather clueless petty thief. Scarlet, on the other hand, is trying desperately to gain the police's attention. Her grandmother has disappeared, surely in danger; the officers speculate that the eccentric old woman has wandered off. Only when Scarlet meets the violent yet attractive Wolf, an alpha human with animal instincts, is she on the trail of her beloved Grand'Mere and a trajectory that intersects with Cinder's attempt to save the earth by foiling Lunar Queen Levana's marriage to Emperor Kai.
It's another Marissa Meyer roller coaster ride, part science fiction/fantasy, part political machination with a hint of romance. Readers will be pushed into a horrific alternate universe where violence, especially mind manipulation and control, create ethical and life-threatening situations for both teens. With at least one more Lunar Chronicle to come, the suspense continues. And which fairy tale will Meyer morph next?
— Frances Bradburn