Well, so much for posting about my writing experiment every day this month. *cringe* I got swept up in finishing CRESS and sending that off to my editor last week (with success, btw!), and that put my Secret Nano Project on the back burner.
I am back in full Nano-swing now, though!
Current Word Count: 24,127
Here's where I've been writing the past few days: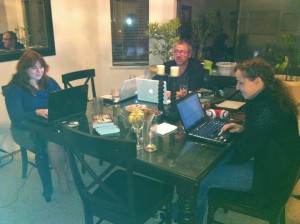 (Left to right: Phoebe Kitanidis, Daniel Marks, Kristin Halbrook)
Day: 10
Location: Nano Slumber Party! (a.k.a. author Kristin Halbrook's lovely home)
Time spent: About half an hour. (I was really there for about 6 hours, but most of that was spent finishing CRESS… and gossiping). So, half an hour spent Nano-ing.
Words written: 407
Comfort: Very comfortable! Good lighting, good food, good company…
Noise: Speaking of good company. You think writers are so quiet and shy? Not when you get them around a table with drinks and teriyaki. Lots of talking was going on at the Nano slumber party, which was a ton of fun, if also distracting.
Pros: It's like being productive and social at the same time! Also, when we were working, there's a sense of encouragement/competition. No one wants to be the one writer with a silent keyboard, so it motivates one to keep at it.
Cons: The social aspect is also the distracting aspect. It can be hard to focus when there's gossip to be had.
Final Thoughts: I would do this again in a heartbeat. I'm not saying it was my most productive writing location, but it was definitely the most fun.
.
.
.
Then, on the 12th day I took off for my first ever writing retreat! I stayed three days at Thornewood Castle in Washington, which is where Stephen King's "Rose Red" was filmed. These days it's both a private residence and a bed & breakfast.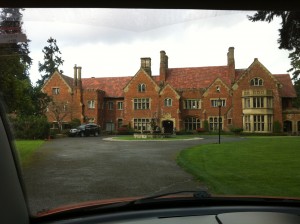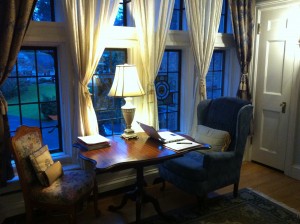 Day: 12
Location: A stately mansion, part I: Bedroom overlooking the fountain/courtyard
Recommended by: Writing in a stately home was recommended by Toni, who "always wanted to write in a stately home. In complete isolation. Probably Chatsworth house in Derbyshire UK. One of my favourite places."
Which worked for me, because I've always wanted to stay at Thornewood Castle! I totally get where the compulsion comes from. I felt a little bit like Jane Austen (except, you know, the whole part where she didn't live in a mansion… or America).
Time spent: 3 hours (well, I spent a lot more time there, but only tracked my time/words that first night).
Words written: 1,657
Comfort: The lighting was perfect—soft, but still bright enough to see. But the chair was a little low for the table, meaning I was constantly teetering on a stack of pillows.
Noise: I was the only guest throughout my whole stay (!!), which meant it was soooooo blissfully quiet.
Pros: Peace and quiet in a place filled with beauty.
Cons: I didn't actually start writing until 5 or 6 in the evening my first day, which meant I was pretty tired (hence the low word count for three hours). And a more ergonomic chair would have been nice. But it was gorgeous, so I'm not complaining.
.
.
.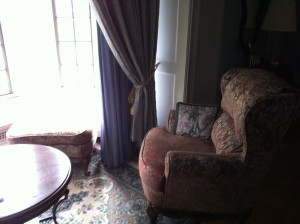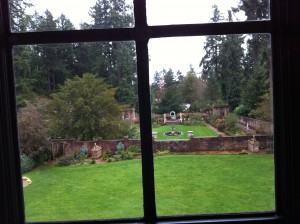 (The sunken garden.)
Day: 13
Location: A stately mansion, part II: Bedroom overlooking the "sunken garden"
Time spent: 1.5 hours
Words written: 2,102
Comfort: Perfect. The chair was just right and while I didn't spend a whole lot of time looking out the window, it was a nice view to have when I did.
Noise: Just me and my keyboard. Again, I was the only person staying there, and while there are people who live on the other side of the house, I almost never heard them.
Pros: Um…. it's pretty much paradise?
Cons: Okay, so technically I'm probably not supposed to be hanging out in the bedrooms that I'm not paying for (this was, I think, the most expensive room you could rent). But no one else was using it! So the only con was the occasional paranoia that someone was going to come in and I would get in trouble for being there, lol.
Final Thoughts: When can I move in?
.
.
.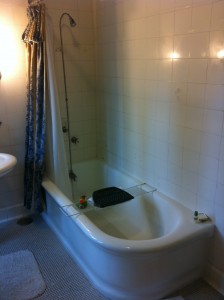 (This picture does no justice to how insanely cute this bathroom was.)
Day: 13
Location: Stately mansion, part III: The bath
Recommended by: Crimson and Michelle Davidson Argyle both mentioned writing in the bathroom, while Katy specified that she's written in "the bath with a rather damp notebook and pencil."
Time spent: 1 hour
Words written: 965
Comfort: Very comfortable, until the water got cold and I turned all pruney.
Noise: Just me and my keyboard <~ you may have noticed a theme to these stately mansion posts.
Pros: I've written in the bath a few times before and I love it, partly because it feels uber luxurious and I can look around and be like, yeah, so this is my life.
Cons: You can only stay in for so long before you shrivel up, which can disrupt the writing if you're on a role. Also, I would never ever in a million years bring a laptop in (OBVIOUSLY), which leaves either pen + notebook (which I personally hate) or my Alpha Neo. The Neo works very well, though I still have to be careful.
Final Thoughts: If you try it, have lots of towels handy, and a big glass of ice water so you don't overheat.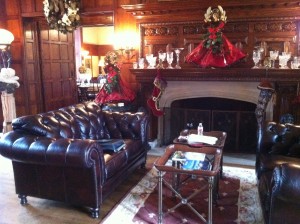 Day:  14
Location: Stately mansion, part IV: The Great Room (by a fireplace)
Time spent: 2.5 hours
Words written: 3,128
Comfort: At first I wasn't sure about the high-backed leather sofa, but it actually ended up being very comfortable!
Noise: They had music playing, but it was pretty laid back, so not too distracting. Otherwise, I was only occasionally interrupted by the homeowners setting up Christmas decorations.
Pros: Cozy, beautiful, and solitary.
Cons: Can't think of a thing.
Final Thoughts: I wish I had an enormous fireplace to write next to all the time!
I'll try to do a more complete post on my writing retreat thoughts and experiences after NaNo. In the meantime, I hope you're all having a great noveling month!
P.S. Have you Liked the Lunar Chronicles fanpage on Facebook? Because my publisher is gearing up to release the photos of the Scarlet Book Trailer actors but we need about 50 more Likes and, um, I'M DYING TO SEE THEM.