AAAH, how AWESOME was yesterday?! My publisher really went all out to make Cyborg Monday an fantastic Lunar Chronicles experience, and I hope you all had as much fun as I did.
Here are links to the new content that was released:
First, we revealed the EPIC NEW TUMBLR, with the very easy-to-remember URL: http://thelunarchronicles.com! Follow it to see regular updates, news, and gorgeous fanart, videos, and gifs. It makes me so happy.
You can also now download the First Five Chapters of CRESS –for free!
For an e-reader (US only!): http://page.macmillan.com/mcpg/cresschaptersampler
Or read online at: http://www.wattpad.com/user/marissameyer22
Haven't read CINDER yet or have been looking for an excuse to re-read? Join in the Cinder read-a-thon, now through Dec. 15. Tweet your progress using hashtag #ReadCinder and you could win a Lunar Chronicles prize pack! Details at http://www.macteenbooks.com/ya/join-the-cinder-by-marissa-meyer-readathon/
We also revealed the shiny CRESS book trailer – sexy spaceship captain included!
http://thelunarchronicles.com/post/68789350474/watch-the-trailer-for-cress-by-marissa-meyer
I'm pleased to announce that a Lunar Chronicles companion short story, "The Little Android," will come out this January. It's based on "The Little Mermaid," my second-most requested fairy tale to retell (after the ever-popular "Beauty and the Beast"). You can read a teaser from the story here: http://thelunarchronicles.com/post/68797850256/an-excerpt-from-the-little-android-by-marissa-meyer
My publisher revealed a new promo where you could win a fabulous limited-edition CRESS comb, and all you have to do is pre-order the book! (Which you were going to do anyway, right?) Details are at : http://us.macmillan.com/macmillansite/promo/cresspreorderoffer (US only).
Then – BIG NEWS! – these dates and locations for my CRESS book tour were announced! If I'm coming to a city near you, mark your calendars!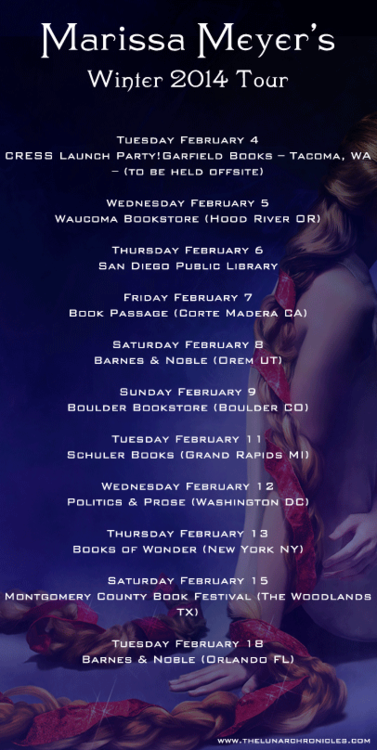 We also had an amazing Twitter chat last night, and I want to thank everyone who hung out with us and asked questions! They were coming in fast and furious and I know I missed a lot, but never fear! I will be participating in yet another Q&A session coming up. And I'll be on live video this time. How's that for high-tech?
Join the Reading in Twilight Live Q&A and Video Chat
When: This Saturday at 5:00 EST / 2:00 PST
Where: http://readingintwilight.blogspot.com/2013/12/marissa-meyer-live-chat-starts-127-4pm.html
How: To ask a question during the chat, tweet using the hashtag #MarissaMeyerChat, and our blogger moderator will pass your questions over to me.
I hope to see you there!