Everyone loves a Best-of-the-Year list, and I've been incredibly honored to see CINDER on the favorites list of not only many bloggers (thank you thank you thank you!) but also lists from:
– Publisher's Weekly
– Chapters/Indigo
– Amazon
– Goodreads Reader's Choice Awards
– The Romantic Times
– Hudson Booksellers
– YALSA
Color me one flattered, humbled, and grateful debut author!!
In the spirit of spreading the Book Love, here are MY personal favorite reads of the year:
<><><><><>
1. Shadow and Bone / Siege and Storm by Leigh Bardugo
I'm combining these two because, come on, Leigh, give everyone else a chance! I love love love these books with a great burning passion. They're kind of becoming my new obsession. If you enjoy epic storytelling and fascinating magical worlds and creepy villains and super hot guys… some who might turn out to be creepy villains… you should definitely check out the Grisha Trilogy. How long again until the third book comes out? HOW LONG??
<><><><><>
2. Girl of Nightmares by Kendare Blake
Kendare's first book, Anna Dressed in Blood, made my Top 5 Books of the Year in 2011, and I'm now confident that I will love anything she ever writes. Girl of Nightmares was just as dark and eerie and romantic and intense as the first book, and while I'm sad that this story has already wrapped up, I can't wait to see what Kendare brings us next.
<><><><><>
3. Monstrous Beauty by Elizabeth Fama
Speaking of dark and eerie and romantic and intense… Monstrous Beauty wins my vote for the most underappreciated book of the year. I thought it was BRILLIANT and I can't fathom why it isn't a phenomenal best seller. From the gorgeous writing to the expertly crafted storytelling to some of the most haunting scenes I can recall in recent history, this book has my heart.
<><><><><>
4. Ready Player One by Ernest Cline
This is one of the few "adult" books I read this year, but it's also become one of my most recommended books ever. The concept is so clever and pitch-worthy and I feel like every child of the 80s (or us children of the 90s who still managed to retain some of the geek-knowledge of the 80s), should read this book. It is so, so smart and so much fun.
<><><><><>
5. Scarlet by A.C. Gaughen
This book had my favorite "HOW DID I NOT SEE THAT COMING?!" moment of the year. Maybe some of you smart readers pieced together the clues earlier on, but a certain reveal caught me completely off-guard and I remember laughing hysterically in the middle of a public ferry ride. Scarlet also remains one of my favorite female protagonists of the year—clever, talented, and self-assured.
<><><><><>
6. The Fault in Our Stars by John Green
Part of me wanted to be the rebel and not include this book on my list because it's on everyone's list, but deservedly so. How a book can be so hilarious and so heartbreaking is baffling to me. Instant classic.
<><><><><>
7. Insurgent by Veronica Roth
This is another obvious choice, but what can I say? The pacing, the world-building, the suspense, the characters—Veronica Roth's writing has it all. Plus—FOUR. *swoons* If you're one of the three people in the world who hasn't started this series yet, what are you waiting for?
<><><><><>
8. Defiance by C.J. Redwine
If Scarlet has my favorite heroine of the year, Defiance has my favorite hero—Logan, the ultimate combination of geek-smart and fighter-sexy. Rawr. But a hero does not a great book make, so lucky for us this one also comes with a barrel full of action, a horrific villain, and a futuristic fantasy world that is entirely brilliant and unique.
<><><><><>
9. Keturah and Lord Death by Martine Leavitt
This is one of those rare books that leaves me speechless when I try to explain why I loved it so much. The writing… the storytelling… how it unfolds with the grace of an ancient fairy tale… just thinking about this book makes me crave lemon pie. Even months later I still find myself thinking about Keturah and Lord Death (the characters) on a regular basis.
<><><><><>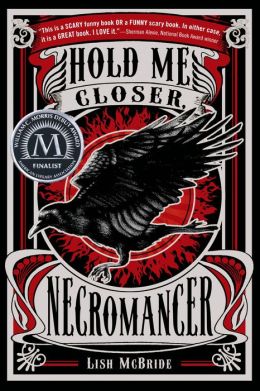 10. Hold Me Closer, Necromancer / Necromancing the Stone by Lish McBride
We'll bookend the list with another series pairing, although we're all waiting to see if we'll get a third Necromancer book (Lish says she has "ideas," so my fingers are crossed!). These books are brimming with hilarious snark, an ensemble cast of endearing paranormal creatures, and one seriously bad-ass family of werewolves. Fun times for all!
<><><><><>
What do you think, readers? Did we share any favorites this year?