Despite launch week being behind us, there are still a few more events going on to celebrate the GILDED release and where you can join me and special guests for some NaNoWriMo writing sprints.
November 11, 5pm PST/8:00pm ET – Join me on IG Live with Marie Lu:

November 17, Waterstones (UK) is holding an online event. See the link for ticketing but here is the description of the event: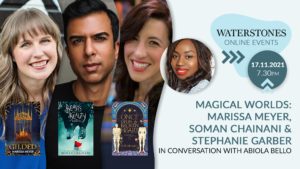 Join us online for an event with three New York Times bestselling authors, Marissa Meyer, Soman Chainani and Stephanie Garber as they come together to talk about their magical new books, Gilded, Beasts and Beauty and Once Upon a Broken Heart.
In conversation with Abiola Bello, each author will discuss their books, writing processes, upcoming projects and the world of magic and fairy tales in fiction, and you'll event get the chance to put your own questions to these three astounding writers at this special event. 
---
And this month is NaNoWriMo (National Novel Writing Month)! If you're participating, or are just curious, I hope you'll join me and special guests for some hosted writing sprints: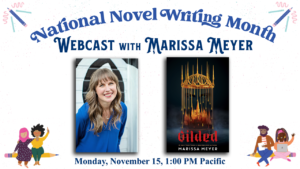 11/15 – 1pm PT/ 4:00 pm ET –
Calling all aspiring authors! Join Marissa and Team NaNoWriMo for a special webcast. Tune in for a writing sprint, GILDED conversations, and a chance to have me answer your writing, publishing, and book-related questions
You are also welcome to join me throughout the rest of the month at The Happy Writer for more writing sprints with special guests: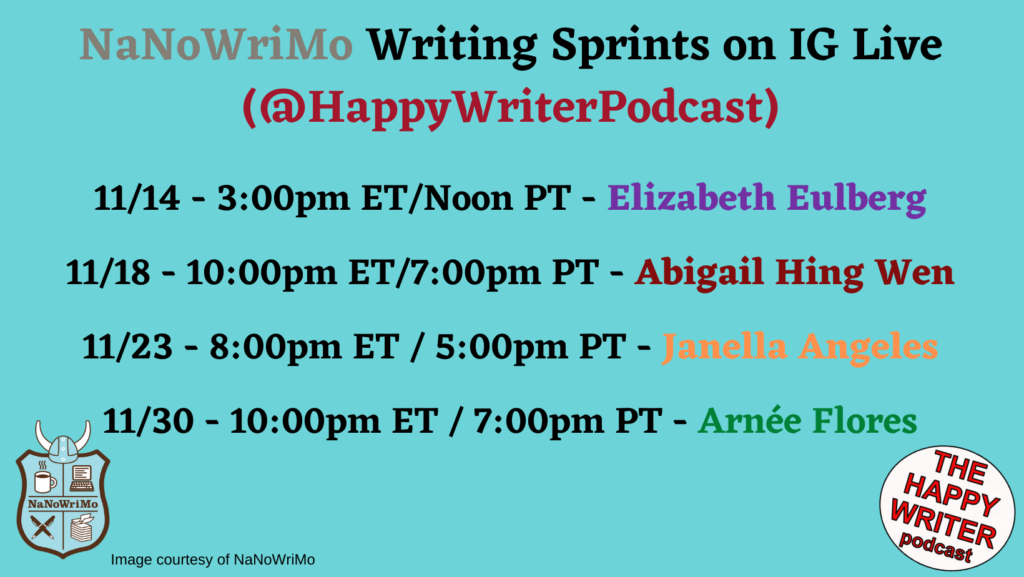 11/14 – 3:00pm ET/Noon PT – Elizabeth Eulberg
11/18 – 10:00pm ET/7:00pm PT – Abigail Hing Wen
11/20 – 5:00pm ET / 2:00pm PT – Jessica Brody
11/23 – 8:00pm ET / 5:00pm PT – Janella Angeles
11/30 – 10:00pm ET / 7:00pm PT – Arnée Flores
Happy Writing!