It's time for my annual books list post! I did not hit my goal of reading 100 books last year, but at a grand total of 72 books read, I did at least surpass the 68 that I read in 2017. Progress? (I'm going for 80 books in 2019 – wish me luck!)
Here is my statistical breakdown:
Total Books Read: 72 (of which 10 were enjoyed as audiobooks)
Fiction
Young Adult: 34 (but one was Renegades and I included Archenemies twice, so really… 31.)
Graphic Novels: 4
Middle Grade: 3
Romance: 1
Classic Lit: 1
Short Stories: 1
Non-Fiction
Personal Development: 18
General: 5
Memoir: 3
Writing Guides: 2
And as per tradition, here are my 10 Favorite Books that I Read in 2018!
(In alphabetical order by title.)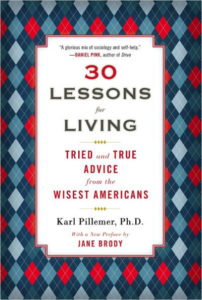 1. 30 Lessons for Living: Tried and True Advice from the Wisest Americans by Karl Pillemer, Ph.D.
I read a lot of personal development, but this was one of the most insightful books I've read in a long time. The book breaks down thoughts on life, family, relationships, health, work, and fulfillment, as compiled from hundreds of interviews with people in their later years. I found it to be an incredibly comforting read, as a lot of the interviewees talk about how their later decades have been some of the happiest of their lives, and a lot of the wisdom they offer really made me stop to contemplate my own life and choices (in a good way).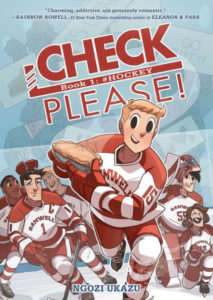 2. Check, Please! #Hockey by Ngozi Ukazu (graphic novel)
This graphic novel is SOOOOOOO CUUUUUUUUTE. Synopsis: a former figure skater joins his college hockey team and son begins to fall in love with the team captain. Add in great characters and thoughtful writing, and all the gushy, squishy, happy feelings ensue!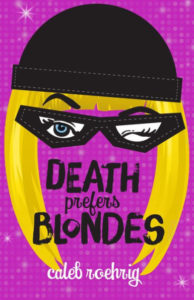 3.Death Prefers Blondes by Caleb Roehrig
Dangerous heists! Drag queens turned cat burglars! A rich heiress, a mysterious death, a cute assistant with a slightly worrisome adrenaline addiction! This book checked a lot of boxes on my "things I love" list, and I enjoyed every page of this super fast-paced read.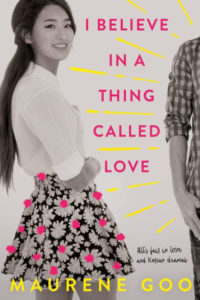 4.I Believe in a Thing Called Love by Maurene Goo
Oh, the FEEEEELS. I very much related to the slightly neurotic, over-planning Desi Lee. Her fool-proof (cough) plot to make the cute new boy at school fall in love with her using tropes from Korean dramas was hysterical and adorable and sometimes squeamishly awkward. I often cringed at Desi Lee's misguided attempts, but those cringes were accompanied by lots of melty sighs!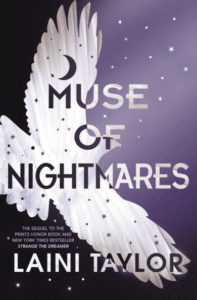 5. Muse of Nightmares by Laini Taylor
If you've never read a Laini Taylor book, drop everything and read one right now! She is one of my auto-buy authors, and I'm constantly amazed at her ability to combine breathtaking prose and world-building with intense, heart-stopping plots. And romance!!!! Strange the Dreamer was one of my top reads of 2017, and this follow-up DID NOT DISAPPOINT.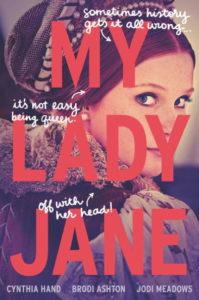 6. My Lady Jane by Cynthia Hand, Jodi Meadows, and Brodi Ashton
I enjoyed this as an audiobook, which I highly recommend, because the voice actor was amazing. The book re-envisions the marriage, brief reign, and death of Lady Jane Grey, giving a whole new twist to history. There is romance! There is betrayal! There is a ton of raucous humor! This was one of those audiobooks that had me driving laps around the block so I could keep listening a little longer. (Also, these three authors have totally struck gold with each other, because I equally enjoyed My Plain Jane, a retelling of Jane Eyre that includes Charlotte Bronte as a main character. Read them both!!)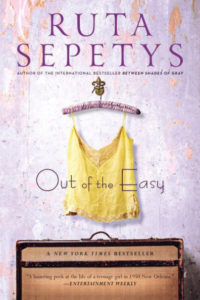 7. Out of the Easy by Ruta Sepetys
This is one of those books that had been on my TBR for a long time, and I'm so glad I finally picked it up. Set in New Orleans in the 1950s, the story follows the daughter of a prostitute as she tries to establish a life for herself outside of her mother's reputation, but ghosts from the past are constantly returning to try and drag her down. Josie, intelligent, brave, and strong-willed, is one of my favorite protagonists of the year, and the way Ruta brought New Orleans to life made me feel like I was walking the streets of the French Quarter. Loved it!!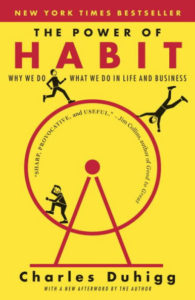 8.The Power of Habit: Why We Do What We Do in Life and Business by Charles Duhigg
This book was as fascinating and gripping as any fiction book I read this year! Filled with both science and history, this book examines why we do what we do (over and over again), on personal, communal, and societal levels. IT'S SO INTERESTING. Not only has it helped me establish some new habits this past year, but it also gave me a lot of fun "did you know" tidbits to pull out in social gatherings.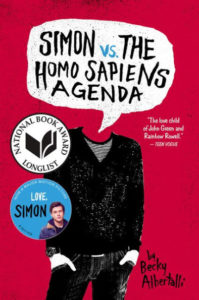 9. Simon vs. The Homo Sapiens Agenda by Becky Albertalli (audiobook)
You've all read this already, right?? I positively adored both the book and the movie, in no small part because Simon is just so stinking charming and loveable!!! I cried, I swooned, I turned the final page with a very happy smile.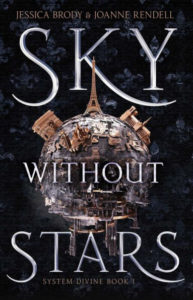 10. Sky Without Stars by Jessica Brody and Joanne Rendell
Calling all Lunar Chronicles fans! Put this on your list PRONTO!! I can't say enough good things about this sci-fi retelling of Les Miserables (one of my all-time favorite books, now updated with cyborgs and spaceships! YESSSS.) The world-building is spectacular, the plot is full of twists that surprised even this long-time fan of Les Mis, and the characters manage to be both familiar and unique at the same time. I cannot wait for Book Two!! (And on a side note, I've realized this is the third of the last four years where my Top 10 has included a Jessica Brody book: A Week of Mondays in 2015 and The Chaos of Standing Still in 2017. She's another of my auto-buy authors, but Sky Without Stars is officially my fav of all her works thus far.)
And with those recommendations leading the crowd, here is my complete 2018 reading list, for all interested parties:
1. Bluefish by Pat Schmatz (audiobook)
2. Getting Things Done: The Art of Stress-Free Productivity by David Allen
3. The Power of Habit: Why We Do What We Do in Life and Business by Charles Duhigg
4. The Secret Societies Handbook by Michael Bradley
5. Minimalist Parenting: Enjoy Modern Family Life More by Doing Less by Christine Koh and Asha Dornfest
6. On a Dollar a Day: One Couple's Unlikely Adventures in Eating in America by Christopher Greenslate and Kerri Leonard
7. The Wrenchies by Farel Dalrymple (graphic novel)
8. P.S. I Still Love You by Jenny Han
9. Always and Forever, Lara Jean by Jenny Han
10. In Some Other Life by Jessica Brody
11. Once Upon a Dream by Liz Braswell (audiobook)
12. Romeo and What's Her Name by Shani Petroff
13. Living the Simple Life by Elaine St. James
14. Siren's Song by Mary Weber
15. First Things First by Stephen R. Covey
16. Love, Lies, and Spies by Cindy Anstey
17. Transcendent by Katelyn Detweiler
18. Lintang and the Brightest Star by Tamara Moss
19. Give It Up! My Year of Learning to Live Better with Less by Mary Carlomagno
20. Safekeeping by Karen Hesse
21. Ally by Anna Banks
22. Small Medium at Large by Joanne Levy
23. Ready for Anything by David Allen
24. Screenplay: The Foundations of Screenwriting by Syd Field
25. Out of the Easy by Ruta Sepetys
26. Writing Picture Books by Ann Whitford Paul
27. Eve & Adam by Katherine Applegate and Michael Grant
28. Simon vs. The Homo Sapiens Agenda by Becky Albertalli (audiobook)
29. Wild Swans by Jessica Spotswood
30. Do Less: A Minimalist Guide to a Simplified, Organized, and Happy Life by Rachel Jonat
31. Not the Girls You're Looking For by Aminah Mae Safi
32. The Invention of Hugo Cabret by Brian Selznick
33. L'art de la Simplicite by Dominique Loreau (audiobook)
34. How to Fracture a Fairy Tale by Jane Yolen
35. 30 Lessons for Living: Tried and True Advice from the Wisest Americans by Karl Pillemer, Ph.D.
36. Don't Cosplay with My Heart by Cecil Castellucci
37. Spinning by Tillie Walden (graphic novel)
38. I Believe in a Thing Called Love by Maurene Goo
39. Renegades by me!
40. Archenemies , also by me!
41. My Lady Jane by Cynthia Hand, Jodi Meadows, and Brodi Ashton (audiobook)
42. How to American by Jimmy O. Yang (audiobook)
43. Off the Clock by Laura Vanderkam
44. The Busy Person's Guide to the Done List by Bailey Adams
45. Wishful Drinking by Carrie Fisher (audiobook)
46. Happier at Home by Gretchen Rubin
47. P.S. I Like You by Kasie West (audiobook)
48. Don't Expect Magic by Kathy McCullough
49. Archenemies, by me! Again! (And yes I am padding this list a little bit)
50. The Distance Between Us by Kasie West (audiobook)
51. Lois Lane: Double Down by Gwenda Bond
52. More or Less: Choosing a Lifestyle of Excessive Generosity by Jeff Shinabarger
53. How Pleasure Works by Paul Bloom
54. My Plain Jane by Cynthia Hand, Brodi Ashton, and Jodi Meadows (audiobook)
55. A Year Right Here: Adventures with Food and Family in the Great Nearby by Jess Thomson
56. Mera: Tidebreaker by Danielle Paige (graphic novel)
57. The How of Happiness by Sonja Lyubomirsky
58. The Hate U Give by Angie Thomas (audiobook)
59. How to Talk so Kids Will Listen and Listen so Kids Will Talk by Adele Faber and Elaine Mazlish
60. Black Wings Beating by Alex London
61. Check, Please! #Hockey by Ngozi Ukazu (graphic novel)
62. A Field Guide to Lucid Dreaming by Dylan Tuccillo, Jared Zeizel, and Thomas Peisel
63. The Boneless Mercies by April Genevieve Tucholke
64. TED Talks: The Official TED Guide to Public Speaking
65. Thrive by Adrianna Huffington
66. Muse of Nightmares by Laini Taylor
67. Getting Unstuck: Break Free of the Plateau Effect by Bob Sullivan and Hugh Thompson
68. Beasts Made of Night by Tochi Onyebuchi
69. Once a Scoundrel by Mary Jo Putney
70. Sky Without Stars by Jessica Brody and Joanne Rendell
71. Death Prefers Blondes by Caleb Roehrig
72. Oliver Twist by Charles Dickens