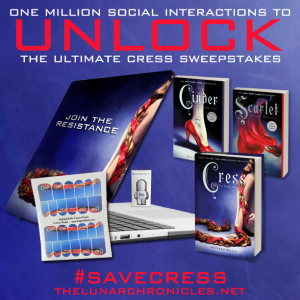 Join the mission to #SaveCress and enter the Lunar Chronicles sweepstakes!
By some technological magic, every like, share, tweet, tumble, and download is currently being monitored and tracked (by satellite-imprisoned hackers, perhaps?) – and every time we reach a benchmark, a new sweepstakes will be unveiled! Prizes include signed books, an Iko USB drive, and even a CRESS-branded MacBook Air!
How can YOU join the resistance? Start by: 
– Liking the Lunar Chronicles on Facebook.
– Liking this post on Instagram.
– Sharing this post on Tumblr.
– Liking this post on Facebook.
– Watching the Cress book trailer.
And why stop there? Here are some more ideas for the true revolutionaries:
– Encourage your friends to Like the Lunar Chronicles fanpage.
– Share the CRESS book trailer on your blog or Facebook.
– Follow The Lunar Chronicles on Tumblr.
– Leave a review for Cinder, Scarlet, or Cress on Amazon, GoodReads, or BN.com – then tweet your review using the #SaveCRESS hashtag.
– Share your fanart or gifs on Tumblr using #SaveCRESS.
– Download Cinder, currently just $2.99.
– Read "The Little Android" on WattPad – then Tweet your reaction using #SaveCRESS.
– If you're a blogger, you can also help by encouraging your followers to Join the Resistance too!
We've already unlocked two sweepstakes by achieving over 50,000 interactions! Download the Rampion schematics and enter to win the nail decals here: http://thelunarchronicles.net/
(Sorry, but sweepstakes prizes are open to the US only, although I think anyone can download the schematics…)
How will YOU be joining the Lunar Chronicles resistance? Let us know in the comments!