My publisher has put together these fabulous gift boxes for some lucky Lunartics!
Each box includes: a (highly coveted) Scarlet sweatshirt, a bookmark, a lipgloss, and a signed copy of the book.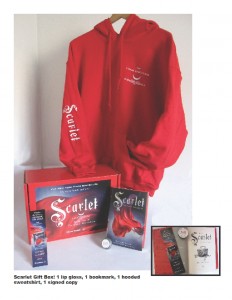 Best of all, you currently have TWO chances to win!
1. Fill out this giveaway form at BookRiot.com.
2. Sign up for my newsletter.
Winning subscribers will be randomly selected and contacted next week. If you're already subscribed – you're already entered!
Good luck, everyone!