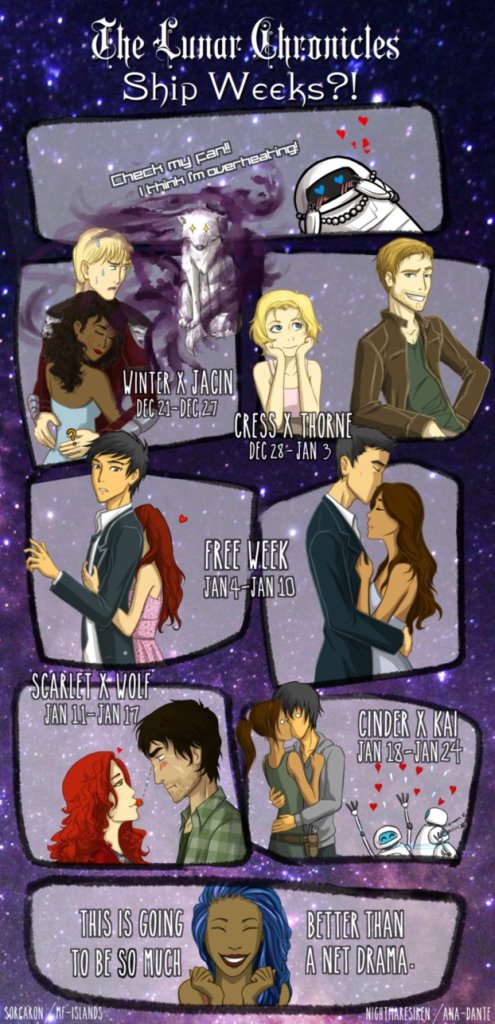 (Artwork by NightmareSiren and M.F. Islands.)
Calling all Lunartics: The first ever Lunar Chronicles Ship Weeks are starting soon!
WHAT ARE SHIP WEEKS?
From the TLC Ship Weeks Tumblr:
A Ship Week is a specified week where fans draw/write/etc and submit pieces for a particular pairing. Ship Weeks of course implies more than one week of such festivities.
The first annual The Lunar Chronicles Ship Weeks will take place from December 21, 2014 to January 24, 2015, the 5 weeks before the release of Fairest, and feature the following ships and the corresponding themes for Days 2, 4, and 6 of each week.
For each themed day (Monday/Wednesday/Friday), submit pieces based on the theme~ Other days of each week are open for any pieces related to that ship.
In other words—it's a five-weeks-long celebration that allows the fans to create, share, gush, swoon, discuss, and fangirl/fanboy over our beloved TLC characters!
THE THEMES
Dec 21 – Dec 27: Winter and Jacin
Daybreak Monday, Dec 22
Regency Wednesday, Dec 24
Wonderland Friday, Dec 26
Dec 28 – Jan 3: Cress and Thorne
Firsts Monday, Dec 29
Road Trip Wednesday, Dec 31
Unbroken Promises Friday, Jan 2
Jan 4 – Jan 10: FREE WEEK
Genderbend Monday, Jan 5
Plus Iko Wednesday, Jan 7
Crossover Friday, Jan 9
Jan 11 – Jan 17: Scarlet and Wolf
Shadows Monday, Jan 12
Cooking Wednesday, Jan 14
Wild West Friday, Jan 16
Jan 18 – Jan 24: Cinder and Kai
Dreams Monday, Jan 19
Masquerade Wednesday, Jan 21
Celestial Friday, Jan 23
HOW TO PARTICIPATE
Read all about it on the TLC Ship Weeks Tumblr, and use their submission form to submit your artwork! Then sit back and enjoy all the gorgeous TLC love to come out of it.
QUESTIONS?
I'm not officially involved with TLC Ship Weeks other than being SUPER excited about it and helping to spread the word, so if you have additional questions, be sure to go check out the FAQ page on the Tumblr or ask the moderators!
I cannot WAIT to see what everyone comes up with!!! #BestFandomEVER