Today we continue the celebration of awesome new books (dare I say "fierce reads" even), which I began on the old blog with STRUCK by Jennifer Bosworth.
Fierce Reads Book #2: OF POSEIDON by Anna Banks is out today!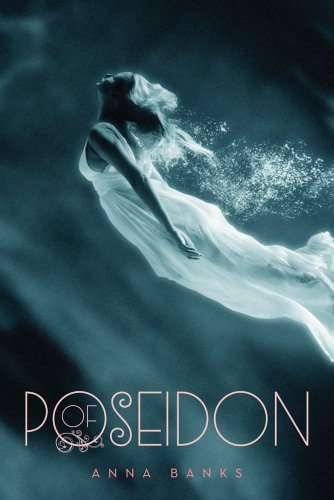 Galen is the prince of the Syrena, sent to land to find a girl he's heard can communicate with fish. Emma is on vacation at the beach. When she runs into Galen—literally, ouch!—both teens sense a connection. But it will take several encounters, including a deadly one with a shark, for Galen to be convinced of Emma's gifts. Now, if he can only convince Emma that she holds the key to his kingdom . . .
Told from both Emma and Galen's points of view, here is a fish-out-of-water story that sparkles with intrigue, humor, and waves of romance.
Check out the book trailer:
And you can read an excerpt at BN.com: http://www.barnesandnoble.com/w/of-poseidon-anna-banks/1105031816?ean=9781250003324
OF POSEIDON holds the distinction of being the very first book I ever blurbed! I haven't seen the final book yet, so I don't know if they actually used my blurb, but here's what I had to say about it:
"Of Poseidon is a refreshing story filled with vibrant characters, feisty humor, and an irresistible romance. It grabbed me in the first pages with warmth and charm, followed by devastating heartbreak, and more than one mystery kept me surfing through the pages. The attraction that grows between Galen and Emma is a delightful mix of stubbornness, affection, and electricity. This story of star-crossed lovers in a luscious coastal setting brings new life to the age-old myth of merfolk and left me swooning for more—the sequel can't come fast enough!" – Marissa Meyer
What else can I say? CONGRATULATIONS, Anna!
Anna and I will be on tour together in June. See more details at http://www.facebook.com/fiercereads.