My month of Fierce Reads continues today with the Razorland Series by Ann Aguirre (which just might be the coolest name for a series ever). The first book, ENCLAVE, has oft been compared to The Hunger Games for its dark and broken society and brave heroine (a Huntress, no less). The second book of the trilogy, OUTPOST, released last week.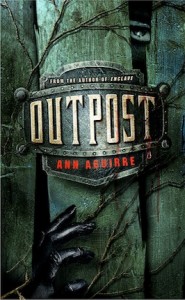 Outpost (Razorland #2) by Ann Aguirre
Deuce's whole world has changed. Down below, she was considered an adult. Now, topside in a town called Salvation, she's a brat in need of training in the eyes of the townsfolk. She doesn't fit in with the other girls: Deuce only knows how to fight.
To make matters worse, her Hunter partner, Fade, keeps Deuce at a distance. Her feelings for Fade haven't changed, but he seems not to want her around anymore. Confused and lonely, she starts looking for a way out.
Deuce signs up to serve in the summer patrols—those who make sure the planters can work the fields without danger. It should be routine, but things have been changing on the surface, just as they did below ground. The Freaks have grown smarter. They're watching. Waiting. Planning. The monsters don't intend to let Salvation survive, and it may take a girl like Deuce to turn back the tide.
Check out this awesome live-action trailer for ENCLAVE:
If you're in love with the world Ann has created, you may also want to check out her short story, "Endurance," available as a .99 e-book from Heroes and Heartbreakers.
Be sure to Like the Fierce Reads Facebook Page for updates and check out the Fierce Reads Events Calendar to see if we'll be coming near you.