I'd meant to do a "Day in the Life" post from when I was on the Cress book tour but kept forgetting about it, so I'll try to remember to do one later this fall, because tour days really have no comparison. They are fun and hectic and exhausting and rewarding and this totally bizarre mix of both my favorite and least favorite parts about being an author, all rolled into one whirlwind week (or, in the case of the Cress tour, 3.5 weeks).
In the meantime, here is a Day in the Life from one of the greatest job perks there is: Writing Retreats! Starring my Pacific Northwest writing buds – Gennifer Albin, Martha Brockenbrough, and Lish McBride – as we trekked up to the lovely seaside town of Port Townsend for some productivity and fun.
A Day in the Life
7:30: Wake up sans alarm clock (blissful!) and spend some time marveling over the gorgeous antique-inspired quilt in this adorable Victorian hotel. I make a note to go quilt shopping one of these days…  and narrowly resist hunting for one on Etsy. This is a writing retreat! Must not get distracted!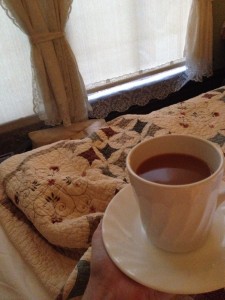 7:47: Make some coffee, eat a protein bar, send my husband a "coffee isn't the same without you" text (because we're gross like that), and start checking my emails.
8:06: The Fierce Reads authors have been announced! Share on Facebook and Twitter.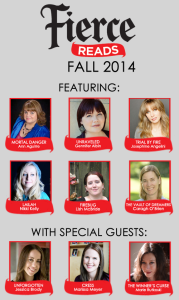 8:32: Time to take stock of my epic writing retreat to-do list and make a plan for the day. This is the first full day of the retreat, and I have big ambitions!
Today's goals:
– Answer emails for at least 90 minutes (I'm still not caught up from when I was on tour, and I've been home for a month!!)
– Get though all my revision notes on [Secret Project redacted]
– Transfer my Heartless manuscript into Scrivener
– Make progress on the profile book my husband and I have to complete for our adoption
– Read one graphic novel (for research, I swear!)
– Write this blog post
8:40: Start on my second cup of coffee and proceed to answer some of those emails.
9:20: Time for breakfast! I meet Lish and Martha in the hotel lobby and we head out to find some grub.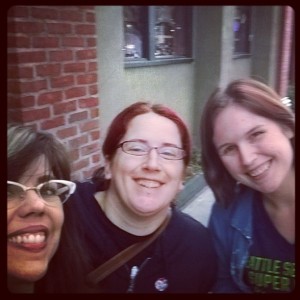 11:10: Breakfast took a lot longer than expected… I'm feeling a bit like a retreat slacker. But we're back at the hotel now, chilling in one of the parlors. Time to get some work done! I open up [Secret Project redacted] and start pouring over my revision notes. Genn arrives and we all chat bookish stuff for a while.
1:42: Sweet! There were fewer revision notes than I thought, and I knock them out in record time. Bam. Tomorrow I'll conduct one more full read-through and ship it off to my editor, but for now, it's time to answer some more emails…
2:26: Made good progress on the inbox, and scheduled about a gazillion upcoming Skype visits. The decision is made to move to the café down the street. Pack, pack, shuffle, shuffle.
2:42: Iced hazelnut latte in hand, time to work on Heartless!
5:19: Heartless is in Scrivener and all my preliminary revision notes are compiled. I'm feeling much better about this work day, and spend the next hour working on the family profile book for our adoption agency.
6:27: We head back to the hotel for a home-cooked meal of slow cooker chili and Martha's delectable cornbread.
7:50: More emails!
9:17: Good heavens. I've cut the total number of emails in half today. *fist bumps self* Time to go sit in bed and read that graphic novel: Baby's in Black by Arne Bellstorf, which tells the story of Stuart Sutcliffe, the "lost Beatle." It's enticing and beautiful and sad.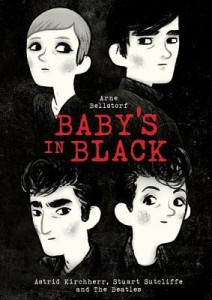 11:00: Happy to go to sleep after a very productive day of writing-retreat. Dreamy sigh.