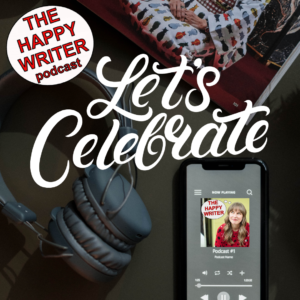 It's hard to believe that it's been just over 2 years since The Happy Writer Podcast debuted on March 22, 2020 with inaugural guest, Jessica Brody. Since then, I've chatted with so many guests, including authors-from debut to well-experienced, multi-published and award-winning, my agent, Jill Grinberg, editor Liz Szabla, and a few other special guests.
As of writing this blog post, there are 107 episodes with many more to come. I hope each episode has given you a little something, from a tidbit of inspiration, to a laugh or two, behind the scenes secret knowledge about your favorite books, or even just the feeling that you're not alone in this often difficult journey to becoming a published author. 
After episode 91 with my agent Jill, where we talked about the agent/author relationship, including my original query letter for Cinder, we got a ton of feedback from listeners wanting more insight into queries.
So to celebrate these two years, we decided to offer up a very special giveaway – query letter critiques! 
Don't have a query ready yet? No problem. You have time to polish it up as we'll be collecting contest entries all through April and then winners of the random drawing will have until the end of May to send in their queries. Queries will be critiqued by me, my agent, Jill, or social media manager (and published author) Joanne and will be returned with feedback and suggestions. 
To enter, fill out this entry form. GOOD LUCK! 
This contest is not sponsored, endorsed, administered by, or associated with, Twitter, Instagram, Facebook or any podcasting distribution platform.
Note: we are unable to provide follow-up comments and referrals to publishers/agents. 
Not sure where to start with queries? Listen to the podcast episode (#91) where Jill and I discussed my query for Cinder. You can see the annotated query on the follow-up blog post. 
And here's an excellent and very comprehensive resource for writing queries from industry pro, Jane Friedman. 
Happy writing!