You guys know that our adoption finalized, right? Because I just realized that I posted about it on Facebook but never here on my blog, so for those who were following our foster-to-adopt journey, the twins became Officially Ours last December.
Hooray!!!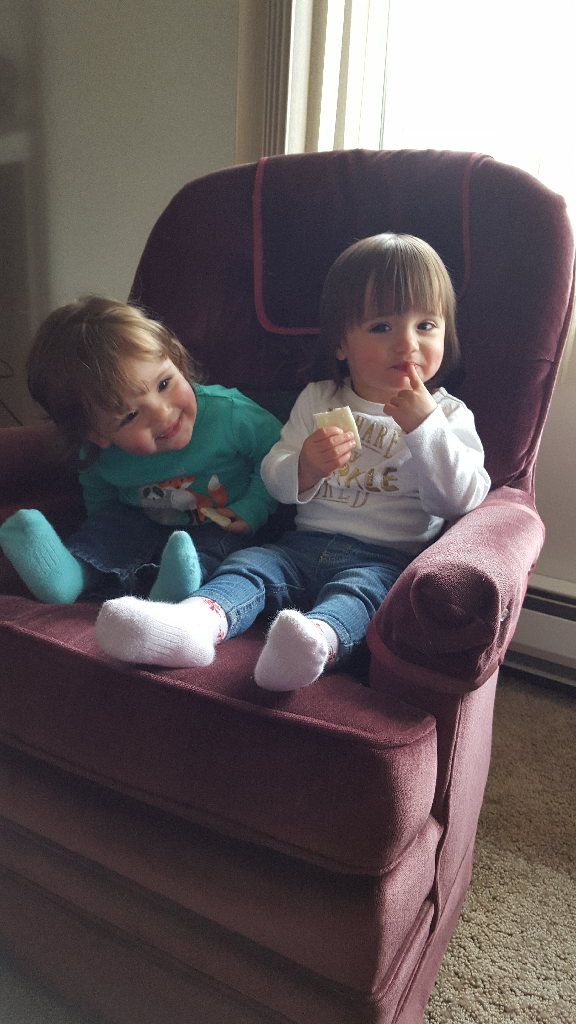 Delaney and Sloane
Before having babies, I knew very little about the board book and picture book market. Sure, I had fond memories from my childhood of Harold and the Purple Crayon or Where the Wild Things Are and lots and lots of Dr. Seuss, but otherwise this last year has been a crash course in baby books, new and old, as I'm sure it is for all brand-new parents.
Luckily, the twins love being read to, and they certainly have their favorite books that they grab from the shelf time and time again. Mostly, they like anything with farm animals. (Mom and Dad mooing like cows… it just never gets old!)
And then there are the books that appeal not just to the girls, but to us as well, and I have developed an enormous appreciation for these treasures! Those that are still humorous and heartwarming, even on the hundredth reading. Those that have surprisingly detailed pictures, where you can still spot something new in the illustrations even if you've seen them dozens of times before.
So today I thought I'd post some of my favorite board books that we've discovered since getting the girls, just in case anyone out there has little ones in need of a new Favorite Story.
Love Monster by Rachel Bright
This one was an instant classic in our house. The story quirky and sweet, there's great voice in the writing, and the illustrations are both adorable and surprisingly complex when you really start to look at them.
Little Blue Truck and Little Blue Truck Leads the Way by Alice Schertle 
These are very clever rhyming books that are fun to read out loud, and the stories are paced just perfectly to hold the girls' attention. Plus they each carry a nice message about kindness and patience, without feeling overly moralistic.
Click Clack Moo: Cows That Type by Doreen Cronin
Not only does this one have a great off-the-wall premise (Cows that type? Impossible!), but it also uses unexpectedly mature vocabulary, like ultimatum and neutral party. You know, in addition to all the moo-ing.
Tumble Bumble by Felicia Bond
There are subtle jokes here that go over the girls' heads, but I find heartily amusing – like a threatening crocodile turning out to be a big softie, or how all the animals are afraid of bears… until one crawls through the window. (Which is notably Sloane's favorite moment of any book we own – she knows that bear is coming, but she still gets excited every time it shows up!)
Okay, parents, teachers, and librarians – your turn! What are some of your favorite books to read to the baby and toddler set?