For the grand opening of this blog, I'm spotlighting some of my favorite blog posts and moments from over the years throughout the month of June.
Week Three: CINDER from Conception to Publication
.
CINDER, FINISHED!
First posted on August 16, 2010
See the original post at: http://marissameyer.livejournal.com/198722.html
Guess what I'll be drinking tonight?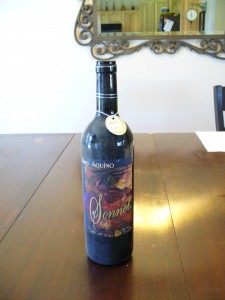 Sonnet wine from the local winery Vino Aquino
But wait… what does that tag say?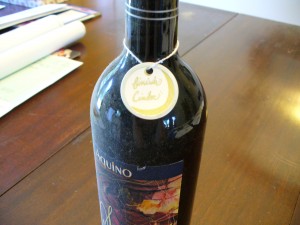 That's right – I finished Cinder!
CELEBRATION.
And I will indeed be celebrating.
I bought this very, very dusty bottle two years ago after a tasting in which I absolutely fell in love with it. It tastes like chocolate and raspberries. I've been back to the winery a handful of times since then and it seems that they no longer make it. I can't wait!
So back to writing stuff:
This morning I submitted Cinder to four of my top agents, and I'm going to send an additional two (non-email queries) this afternoon.
So far, I've received one rejection, from the awesome Mr. Nathan Bransford.
That's it. I'm so boycotting his blog.
(Just kidding.)
So I've decided that the next two weeks will be catch-up-on-reading time, which is MUCH needed. I haven't read a single book in almost a month! Isn't that awful?
And beginning in September – Book II: Scarlet, here we go!
My other celebration wines are: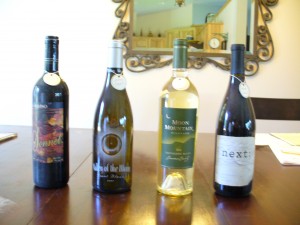 These four are for finishing the Lunar Chronicles. In order: Cinder, Scarlet, Cress, Ebony. I know the picture is blurry, but they are, in order: Sonnet (red table wine), Valley of the Moon (pinot blanc), Moon Mountain (sauvignon blanc), and Next: (pinot noir). Notice the moon theme, and the label on the last bottle which is like a brainstorming cluster. How awesome is that?
Then these two are the big ones: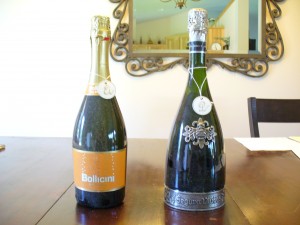 Prosecco (my favorite bubbly) for signing with an agent, and a big beautiful bottle of (less-expensive-than-you-would-think) champagne for getting a book deal.
It's great to have something to look forward to. ^_^