You may or may not know that there are a bunch of short stories set in the world of the Lunar Chronicles, and for years readers have been asking if these tales will ever be collected into a print edition for you to hold, caress, and enjoy.
Today, finally, I can tell you: YES. YES THEY WILL.
I am so pleased to announce . . .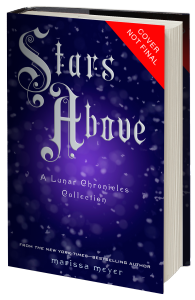 Stars Above: A Lunar Chronicles Collection
Release Date: February 2, 2016
The collection will include:
Glitches: A prequel to Cinder, detailing Cinder's first weeks after her cyborg surgery and her introduction to her new stepfamily.
The Queen's Army: A prequel to Scarlet, telling the story of one soldier in Levana's army who is determined not to become the monster everyone expects him to be.
Carswell's Guide to Being Lucky: A prequel to Cress, expanding on some of Carswell Thorne's exploits when he was a young man with big dreams.
The Princess and the Guard: A never-before-released prequel to Winter, chronicling the friendship between Winter and Jacin and answering some frequently asked questions about Winter, her insanity, and her scars.
The Little Android: My retelling of Hans Christian Andersen's "The Little Mermaid," in which an android falls in love with a human boy.
And a BRAND NEW as-yet-to-be-determined story!
PLUS a sneak peek at my first non-TLC novel, Heartless, and maybe a glimpse at the super-secret project I've been hyping for months, too!
I've been dreaming about a short story collection ever since I wrote "Glitches"—nearly four years ago—and I'm so happy my publisher is on-board. Now my mind is spinning with possibilities for the brand new story! (If you have a specific request, now's the time to ask!)
What this means for WINTER:
Only that we get to hold onto the world and characters a little bit longer. Winter's release date is NOT changing (insert mass sigh of relief) and it will still be in your hands on November 10. As many of you know, Winter is the conclusion to this tale, and I can't wait for you to take the last leg of this adventure with me.
What this means for HEARTLESS:
Though originally scheduled to release in February, Heartless will now be out on November 8, 2016. I know many of you are excited for this take on Wonderland and the infamous Queen of Hearts, and I'm so glad you're looking forward to it! But from the first time my publisher told me that Heartless was going to be on bookshelves only three months after Winter, I've been a little heartbroken that we would all have to move on from Cinder & Co. so soon. (Translation: I'm not ready!! *cries*)
I hope you guys feel the same way and will be willing to hang with me in the TLC universe a little bit longer. And I of course hope you'll enjoy delving further into the universe in Stars Above.
That's it for this announcement. Stars above, let's celebrate!