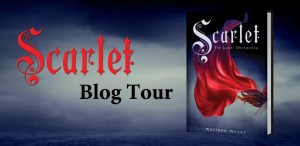 The Scarlet Blog Tour is officially wrapping up today, but many of the giveaways are still underway!
Here's the complete schedule with updated links.
Monday 1/21
Alexa Loves Books : 7 Big Bad Wolf-y Facts
In which I detail some fascinating factoids I learned while researching for "The Order of the Pack."
Tuesday 1/22
Alice Marvels : One Year After Publication: Things I've Learned
In which I look back at the crazy year that was 2012.
Wednesday 1/23
Mermaid Vision Books : Author Interview
In which I talk about Cinder and Kai's romantic troubles, among other things.
Thursday 1/24
Into the Hall of Books : Rieux-Volvestre: The Real-Life Town Behind the Fictional Rieux
In which I take you to the town that inspired Scarlet's home.
Friday 1/25
Supernatural Snark : Author Interview
In which I ponder how long it would take for Captain Thorne to get himself into trouble during a book tour.
Saturday 1/26
Anna Reads : My Top Five Fictional Crushes
In which I swoon. Spoiler alert: There's more than one "captain."
Sunday 1/27
A Backwards Story : 10 Things that Changed from Scarlet's First Draft
In which I detail plot twists that Are No More.
Monday 1/28
Bewitched Bookworms : A Deleted Scene from Scarlet
In which I dare to show you an unedited, unrevised scene from Scarlet's first draft.
Tuesday 1/29
The Book Rat : The Gruesome History of Little Red Riding Hood
In which we talk about non-Disney-fied things.
Wednesday 1/30
Makeshift Bookmark : Virtually "Touring" the Paris Opera House
In which I take you on a tour of one of the most beautiful structures ever built.
Thursday 1/31
Book Sake : Fangirling Over Fanart
In which I highlight some of my fav Lunar Chronicles fanart (so far).
Friday 2/1
Making the Grade : The Queen's Army
In which I discuss the writing of Scarlet's prequel.
Saturday 2/2
Birth of a New Witch : The Resurgence of Fairy Tales
In which I talk about this popular trend and how The Lunar Chronicles fits in.
Sunday 2/3
Two Chicks on Books : Why France? Werewolves and the Beast of Gévaudan
In which I tell the horrifyingly "true" story of an 18th-century werewolf and its murdering spree.
…..
And don't forget to also check out A Week of Little Red from A Backwards Story, which has featured early commentary from some of SCARLET's beta readers, the Top 5 Little Red references in the book, reviews, music videos, giveaways, and more!