Did you guys hear?! My first real copy of SCARLET has arrived, which means… the book exists in the world!
It also means… only two more weeks before it exists in bookstores!!
*dies*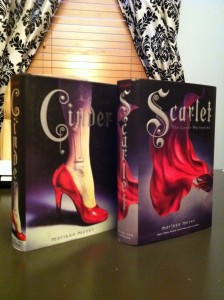 Some amazing book bloggers have agreed to join me for the Scarlet Blog Tour, which kicks off TODAY. Check out the full schedule below.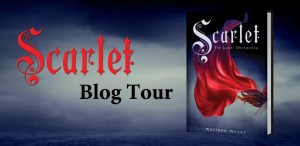 Monday 1/21
Alexa Loves Books : 7 Big Bad Wolf-y Facts (UP NOW!)
In which I detail some fascinating factoids I learned while researching for "The Order of the Pack."
Tuesday 1/22
Alice Marvels : One Year After Publication: Things I've Learned
In which I look back at the crazy year that was 2012.
Wednesday 1/23
Mermaid Vision Books : Author Interview
In which I talk about Cinder and Kai's romantic troubles, among other things.
Thursday 1/24
Into the Hall of Books : Rieux-Volvestre: The Real-Life Town Behind the Fictional Rieux
In which I take you to the town that inspired Scarlet's home.
Friday 1/25
Supernatural Snark : Author Interview
In which I ponder how long it would take for Captain Thorne to get himself into trouble during a book tour.
Saturday 1/26
Anna Reads : My Top Five Fictional Crushes
In which I swoon. Spoiler alert: There's more than one "captain."
Sunday 1/27
A Backwards Story : 10 Things that Changed from Scarlet's First Draft
In which I detail plot twists that Are No More.
Monday 1/28
Bewitched Bookworms : A Deleted Scene from Scarlet
In which I dare to show you an unedited, unrevised scene from Scarlet's first draft.
Tuesday 1/29
The Book Rat : The Gruesome History of Little Red Riding Hood
In which we talk about non-Disney-fied things.
Wednesday 1/30
Makeshift Bookmark : Virtually "Touring" the Paris Opera House
In which I take you on a tour of one of the most beautiful structures ever built.
Thursday 1/31
Book Sake : Fangirling Over Fanart
In which I highlight some of my fav Lunar Chronicles fanart (so far).
Friday 2/1
Making the Grade : The Queen's Army
In which I discuss the writing of Scarlet's prequel.
Saturday 2/2
Birth of a New Witch : The Resurgence of Fairy Tales
In which I talk about this popular trend and how The Lunar Chronicles fits in.
Sunday 2/3
Two Chicks on Books : Why France? Werewolves and the Beast of Gévaudan
In which I tell the horrifyingly "true" story of an 18th-century werewolf.
And remember, MOST if not ALL of these blog tour stops will be hosting Scarlet giveaways, so be sure to follow the full blog tour for your best chance to win a copy of the book!
…..
In addition to all that, A Backwards Story is hosting an entire week of Little Red goodness!
"A Week of Little Red will feature guest posts, author visits, book reviews (because, after all, Marissa isn't the ONLY author with a kick-ass Little Red to celebrate!), giveaways, reviews, and more! It all begins with a special blog tour stop for SCARLET and culminates with a release day celebration!"
Anyone wanting to participate is encouraged to contact Bonnie via her blog.
…..
As the launch creeps closer, don't forget to check out my tour schedule and see if I'll be in a town near you.
You can also now pre-order SIGNED and PERSONALIZED copies of Scarlet from Garfield Book Company. YES, they will even ship international!
ARE YOU GETTING EXCITED YET?!
*giggles madly*
*then runs back to office to finish writing all those blog tour posts I haven't finished yet*