IT'S TIME FOR A NEW CONTEST!
As you know, I love encouraging all sorts of fun and creativity, and while in the past we've had a number of different graphic-arts related contests, this time I wanted to try something a little different. Because creativity comes in all forms and, speaking from experience, not all of us are skilled in Photoshop!
So this time, rather than designing bookmarks, stickers, or insignias, I'm asking you to make something physical. Three-dimensional. Something you can hold in your hand. Or, to be precise, something you can wear on your head.
That's right—in honor of Heartless, Alice, and the Mad Hatter, I want you to make your own Wonderland-inspired headwear.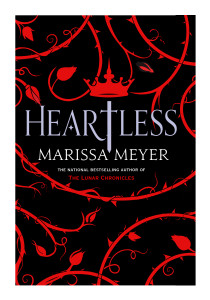 THE CONTEST
YOUR MISSION: Design and create a real headpiece inspired by Heartless and the world of Wonderland. This could be a hat, hair fastener, crown, coronet, tiara, or any other sort of headwear that strikes your fancy!
I know you guys haven't read Heartless yet, but the Mad Hatter is one of the characters you're going to meet—a very fine hatter who is making a name for himself and his spectacular, wondrous, peculiar hats. Some of them are big, gaudy, crazy creations. Some are sweet and elegant. Some are just plain weird.
So channel your inner Mad Hatter and create something fun, whimsical, over-the-top…. or none of the above! Make the hat that you would want to wear if you were invited to a Mad Hatter Tea Party… or, perhaps, for tea with the Queen of Hearts herself.
GUIDELINES
1. Your final creation must be an actual wearable headpiece—not just a drawing or artistic rendering of one.
2. You can use absolutely any medium or objects to create your headpiece. You can choose to create the entire thing yourself, or to use an existing hat/fastener/headband/whatever and embellish it from there.
3. Open internationally. (Woot woot!)
4. Please submit only one design. If you submit more than one design, your work will be disqualified.
NEED IDEAS TO GET STARTED?
Not sure where to begin your hat-making journey? Check out these exceptional Pinterest boards for inspiration:
HOW TO SUBMIT
Once your headpiece is finished, take a picture of it – either by itself or being worn. You may take multiple photos if it needs to be seen from multiple angles, but you will then have to combine them into one image for submission.
Share your design on your favorite social media platform and (optional) tell everyone how excited you are to read Heartless!
Once your design is finished, USE THIS TYPEFORM to submit your design and contact information. Note: You must upload the design to the typeform in addition to posting it on social media.
All entries must be received no later than midnight PST on Wednesday, August 31, 2016.

VOTING AND PRIZES
Once all entries have been received, they will be uploaded to my Pinterest page so we can all admire them. I will then choose three finalists. Those finalists will be posted on this blog and fans and readers will be able to vote for the grand prize winner!
ALL THREE FINALISTS will receive a Wires & Nerve sampler book, a Fierce Reads coloring book, and a $50 gift card to a bookseller of your choice!
ONE GRAND PRIZE WINNER will receive, in addition to the above prizes, a signed ARC of HEARTLESS!
Also (optional) – if the grand prize winner is willing to have their headpiece sent to me, I would be honored to wear it at the Heartless Launch Party in Seattle, Washington, this November.
Happy hat-making, and GOOD LUCK!