Gretchen McNeil, author of POSSESS and the forthcoming TEN, is a rockstar, and I am crazy impressed with the guerilla marketing plan she's set up to promote her newest book. When she heard that Barnes & Noble wouldn't be carrying TEN, rather than resign herself to poor sales and zero support, she concocted a grassroots movement that skipped right over the heads of the big chainstore and took the marketing duties straight to her fans and readers.
Like I said: Crazy. Impressed.
Essentially, Gretchen has created a military-based system in which fans can join her Army of Ten and earn ranks depending on certain tasks they complete. As the tasks become more difficult, the prizes become more desirable, from fun swag like bookmarks, pins, and dog tags, to getting your name in the acknowledgments of her next book.
Although it's too early to tell the campaign's overall effectiveness (TEN doesn't release until September 18), Gretchen's efforts so far seem to be working. At least, they're garnering a lot of buzz.
I was in awe when I first heard about the Army of Ten, because the concept is so unique and clever, yet deceptively simple. We all know that the elusive "word of mouth" sells books (one of the few things the marketing world seems to be absolutely sure about), and this is such a great way to capture that. The Army of Ten campaign sounds both fun and challenging, and I know a lot of readers are thrilled to be involved in supporting their favorite books and authors.
Along with most authors, I'm always trying to come up with new, interesting ways to promote, and I'm a huge advocate for anything that gets readers involved. I suspect we'll be seeing some copycat campaigns in the future, but for now, hats off to Gretchen for spearheading the movement!
For More Information, visit http://armyoften.blogspot.com/.
And because TEN just happens to be one of my most anticipated reads for this season, here's a bit more info on the book: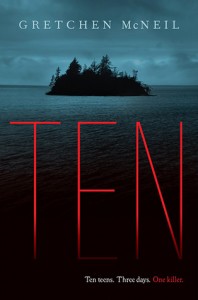 It was supposed to be the weekend of their lives—an exclusive house party on Henry Island. Best friends Meg and Minnie each have their reasons for being there (which involve T.J., the school's most eligible bachelor) and look forward to three glorious days of boys, booze and fun-filled luxury.
But what they expect is definitely not what they get, and what starts out as fun turns dark and twisted after the discovery of a DVD with a sinister message: Vengeance is mine.
Suddenly people are dying, and with a storm raging, the teens are cut off from the outside world. No electricity, no phones, no internet, and a ferry that isn't scheduled to return for two days. As the deaths become more violent and the teens turn on each other, can Meg find the killer before more people die? Or is the killer closer to her than she could ever imagine?
Now I have to ask: Would YOU join a campaign like this to support a favorite author? What other smart ways can authors use their fans for promotion?