Okay, here I go, trying to get caught up on all the amazing things that are happening in the world of The Lunar Chronicles!
My news for today… we have a BRAND NEW WEB SITE!
Check it out: http://www.thelunarchronicles.com
The new site is so sleek and full of awesome things, but let's draw attention to some of the big highlights:
The Map of the Resistance: This is my favorite new feature! Join the resistance and watch it grow!
Step One: Print out one of the super cool resistance posters. Step Two: Take a picture of the poster somewhere in your hometown (and/or a picture of yourself being a Lunartic, like wearing cosplay to the nearest coffeeshop or something). Step Three: Instagram your photo using the hashtag #JoinTheResistance and #LunarChronicles. Step Four: Watch the movement spread!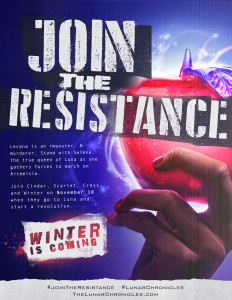 The Resistance Chat Room: Chat with other Lunartics and even a special guest hacker *wink wink* in the brand new chat room! I've heard there's already been some fun roleplaying going on, which makes my geeky fangirl heart swell like you wouldn't believe.
And don't miss a special one-hour chat with me! This Thursday at 9:00pm EST / 6:00pm PST in the Resistance Chat Room. I'll be answering questions and making annoyingly vague statements like, "Hmm, I don't remember what becomes of Character X, I guess you'll just have to wait until November to find out!"
Sounds like fun, right??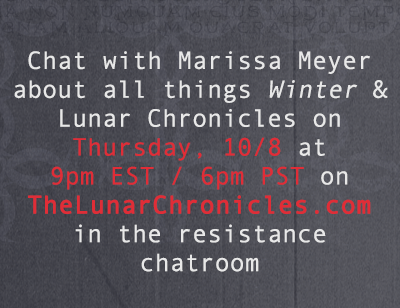 New Teasers… all month long! The first of nine(?) brand new Winter teasers was released this morning, and more will be posted in the coming weeks! Prepare to scream in frustration as my publisher chooses the meanest place to end each one, bwahaha!
The Fanfiction Contest is currently being judged! There were hundreds of entries, so we're running a little behind, but we will be alerting winners and posting the winning entry as soon as we can!
The Winter Pre-Order Campaign is still going on! Pre-order Winter and submit your receipt and you'll receive a pair of Lunar Chronicles texting gloves and a sheet of sparkly flash tattoos! (Sorry International Lunartics, this promotion is for US and Canada fans only.)
#JoinTheResistance  #LunarChronicles #WinterIsComing