All the Pumpkin Contest entries are in and let me tell you, they are AMAZING! I hope to have them all up on Pinterest tomorrow, with voting to begin later this week. I haven't decided yet if I'm going to try and narrow down the selection or how I'm going to handle the voting process, but… we'll figure something out.
In the meantime, here's my first NaNoWriMo status update on the Secret Project and my writing location experiment!
My current word count: 11,091
Because I was at the Vegas Valley Book Festival this weekend, I was able to write on an airplane, a rooftop, and in my hotel room. (Also a restaurant, but I'm saving my official "restaurant" entry for something swankier.)
Day: 1 (morning)
Location: Alaska Flight 610
Time spent: 2.5 hours
Words written: 3,075
Comfort: Good temperature and lighting, but cramped.
Noise: Not a whole lot of talking, but ugh, loud plane noises!
Pros: The best thing about writing on an airplane (or any public transportation) is that you're stuck in a particular spot for a set amount of time, and you don't have much choice about it. So if you go prepared and with the mindset of getting writing done, it can be a productive, distraction-free zone. Also, my flight went by really fast!
Cons: I was writing on my Alpha Neo computer, which isn't too bad, but regular laptops can be cumbersome in such close quarters. And, as with any electronics, they make you turn them off during takeoff and landing, which is enormously obnoxious when you're in the writing groove.
Final Thoughts: Writing can be a great way to use up that obligatory travel time, especially if you're on a deadline, but I would rather relax and read a book.
* * * * *
Day: 1 (evening)
Location: Rooftop lounge in Vegas. I went to the Hideout H2O at the Golden Nugget. Unfortunately, at 7:00 in the evening, the bar was closed! Wha?? But I still got to sit and write for a little while.
The View: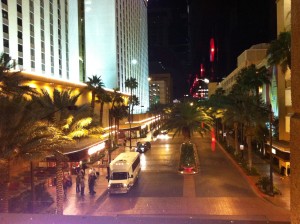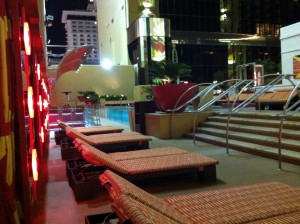 Time spent: 1 hour
Words written: 1,239
Comfort: A bit chilly in the evening, seats were cushioned but not super comfortable.
Noise: Though the bar was empty, they still had the pop music blaring.
Pros: Impressive view and fun people watching down on the street. I also liked the solitude.
Cons: The cold and discomfort made me not want to stay there long, plus I was hungry and had been hoping the bar would be serving food.
Final Thoughts: I sense this would have been a better experience during the day, when it was a bit warmer and I could have gotten something to eat. Next time I'll be more prepared.
Suggested by: Toni, Libby, Emily, Priya, and Liz DeJesus all mentioned writing on rooftops! I had no idea that was such a popular thing. While I got the impression most of you  had more solitary rooftops in mind, my rooftop lounge actually ended up being more solitary than I'd expected… if not quite as peaceful.
On rooftops, Libby shared her experience of writing "on the roof of an abandoned building while in the middle of an *epic* game of hide and seek. It took them over an hour to find me."
Similarly, Toni's strangest place she's written was "the roof top of a derelict building."
Evidently I need to find an abandoned rooftop next time!
* * * * *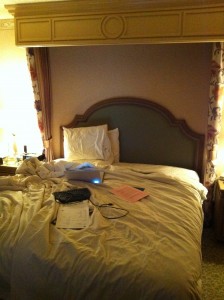 Day: 2
Location: Hotel room
Time spent: 3 hours
Words written: 2,990
Comfort level: Very comfy. Perhaps too comfy.
Noise level: Blissfully silent.
Pros: Room service! Not to mention peace, quiet, and solitude.
Cons: I almost dozed off a couple times (although I was also writing after four hours of sleep, a 5 a.m. wake-up, and three school presentations, so there may have been extenuating circumstances). It would have been nice to have a desk instead of writing in bed, but this hotel room didn't have one.
Neutral: Depending on the hotel, you may or may not have free wi-fi access. Depending on the writer, that may or may not be a bad thing.
Final Thoughts: I do enjoy writing in hotel rooms (especially that room service part), but obviously they come with an expense that most writing locations don't, and usually when I have occasion to be in a hotel room, such as being on tour, it also means I'm exhausted. However, if the stars align just right, this is easily one of my favorite writing locations.