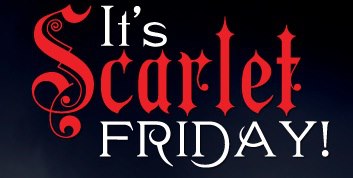 My publisher is pulling out ALL THE STOPS to make Scarlet Friday (that's today!) amazing and filled with loads of Scarlet Goodness!
There's a lot to get to, so I'll jump right in!
– There's going to be a Twitter Chat at 12:00 PST/3:00 EST, where I'll be answering questions and @MadKidsBooks will be giving away ARCs. That's only an hour away folks, so set your alarms and don't miss it! Follow #scarletfriday
– "The Queen's Army," a prequel short story to SCARLET, is now up at Tor.com. Enjoy and comment! (You can also rate and review it on GoodReads.)
– The first five chapters of SCARLET are now available as a FREE e-reader download! (I believe this is for the US territory only… and maybe Canada.)
– The first 1,000 people to pre-order SCARLET will receive a FREE Scarlet branded lipgloss! (Ohmygosh I want one.)
– And last but certainly not least, THE BOOK TRAILER IS LIVE! Check out this exclusive reveal at Entertainment Weekly.
.
.
.
.
.
And on that note – I'm having a celebratory giveaway!! Rafflecopter isn't working, so we're gonna have to do this old-school.
WIN AN ARC OF SCARLET
Step 1. Watch the trailer and leave a comment on the EW web site.
Step 2. Leave a comment on this blog post letting me know that you commented over at EW.
Step 3. Keep your fingers crossed!
Rules: Contest runs through midnight PST on Wednesday, November 28. FIVE randomly selected winners will receive an ARC of SCARLET. Sorry guys, but this one's open to the US only.
Good luck!