During the Heartless book tour, I tried something I hadn't tried at previous book events. In honor of the Hatter's Tea Party, I decided to host a little talent show at each of my events… with volunteers from the audience acting as some of the most talented individuals in the kingdom!

It ended up being a LOT of fun, and at one event someone asked if I could post the prompts that I used, in case anyone wanted to host their own talent show this holiday season.

So… here it is!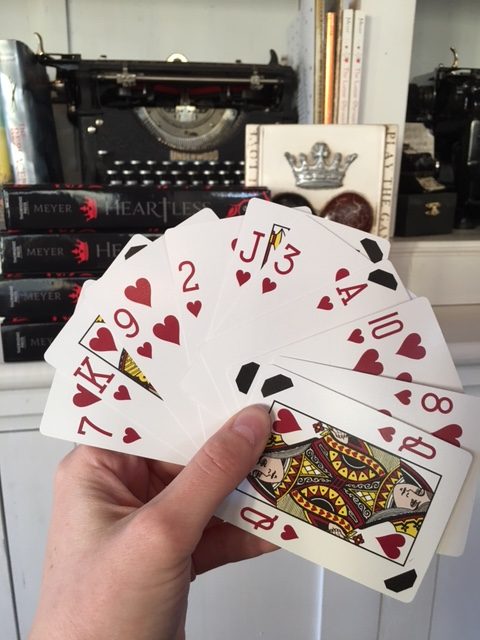 The Heartless-Inspired Talent Show
What you need: A host, some DIY talent cards (below), and some willing victims participants.
Optional: Depending on the prompts you're using, you may also need some additional props: lightweight scarves, rolls of toilet paper, scotch tape, and a book or two. It's also not a bad idea to have prizes for the participants.
To begin: Explain that you're going to be celebrating the occasion with a festive talent show, in which some incredibly talented people will wow and amaze the audience with their unique talents… including some talents they may not even realize they have!

Call up your volunteers: I found that 5 or 6 volunteers at once was a good number. If you're using 7 or more prompts, I recommend doing it in two rounds.
How it works: The first volunteer draws a talent card and hands it to the host (without peeking). The host then introduces them to the audience based on the information on the card and explains their talent.
The volunteer performs their talent, as prompted and with much enthusiasm, followed by raucous applause from the audience. And they get a prize, if you're using them. Hoorah!
Then the next volunteer draws a card, and so on until the show is finished.
*
The Talents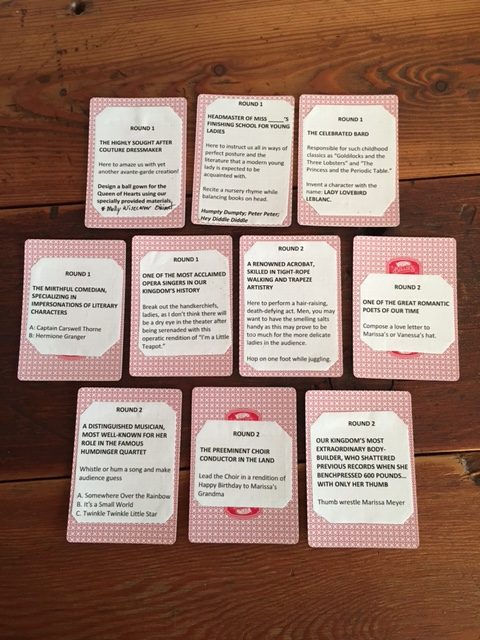 Here are the prompts that I used. You are, of course, encouraged to come up with your own, too!
1. _(Name)_, THE HIGHLY SOUGHT AFTER COUTURE DRESSMAKER
Here to amaze us with yet another avante-garde creation!
Talent: Design a ball gown for the Queen of Hearts using our specially provided materials (toilet paper and tape).

2. HEADMASTER OF MISS __(NAME)_'S FINISHING SCHOOL FOR YOUNG LADIES
Here to instruct us all in ways of perfect posture and the literature that a modern young lady is expected to be acquainted with.
Talent: Recite a nursery rhyme while balancing books on head.
Prompts if needed: Humpty Dumpty; Peter Peter Pumpkin Eater

3. _(NAME), THE CELEBRATED BARD
Responsible for such childhood classics as "Goldilocks and the Three Lobsters" and "The Princess and the Periodic Table."
Talent: Invent a brand-new fictional character with the name: LADY LOVEBIRD LEBLANC.

4. _(NAME)_, ONE OF THE MOST ACCLAIMED OPERA SINGERS IN OUR KINGDOM'S HISTORY
Break out the handkerchiefs, ladies, as I don't think there will be a dry eye in the theater after being serenaded with this operatic rendition of "I'm a Little Teapot."
Talent: Sing "I'm a Little Teapot," opera-style.

5. _(NAME)_, THE MIRTHFUL COMEDIAN
Specializing in impersonations of beloved literary characters.
Talent: act out one of the below characters, using speech and actions but avoiding saying any names.
Prompts:
A: Captain Carswell Thorne
B: Hermione Granger

6. _(NAME)_, ONE OF THE GREAT ROMANTIC POETS OF OUR TIME
Here to let the muse speak through them once again.
Talent: Compose a love poem / love letter to ___ (any fun object in the room)

7. _(NAME)_, THE DISTINGUISHED MUSICIAN
Most well-known for his/her role in the famous Humdinger Quartet
Talent: Whistle or hum a song and make audience guess what it is
Prompts:
A. Somewhere Over the Rainbow
B. It's a Small World
C. Twinkle Twinkle Little Star
8. _(NAME)_, OUR KINGDOM'S MOST EXTRAORDINARY BODY-BUILDER
He/she shattered previous records when they benchpressed 600 pounds… with only their right thumb.
Talent: Thumb wrestle the host
(Note to the host… let them win, with much exaggeration!)

9. _(NAME)_, A RENOWNED ACROBAT
Skilled in tight-rope walking and trapeze artistry, here to perform a hair-raising, death-defying act. Men, you may want to have the smelling salts handy as this may prove to be too much for the more delicate ladies in the audience.
Talent: Hop on one foot while juggling scarves.

10. _(NAME)_, THE PREEMINENT CHOIR CONDUCTOR IN THE LAND
Talent: Lead the Choir (aka audience) in a rendition of "Happy Birthday" (to whoever in the audience has the next upcoming birthday)

Need more ideas? Some that we considered but ultimately got cut from our talent show were:
– do a handstand or cartwheel
– tie a tie or a bow tie (without a mirror)
– instruct everyone in proper tea party etiquette
– Freestyle rap a description of Heartless (or Cinder)
– draw a picture on some paper and have the audience guess what it is
– make a paper airplane
– tell a joke
– recite a poem

Want to see the talent show in action? You can watch it, along with the entire Heartless Launch Party presentation, on the Fierce Reads Facebook page here: https://www.facebook.com/FierceReads/videos/1167282273361327/
(The talent show begins around 18:00.)
If you decide to give the talent show a try at your next shindig, be sure to let me know how it goes!