Another Fierce Reads tour kicks off on September 18, and I am SO EXCITED! This time I'll be on the tour for five different cities with authors Elizabeth Fama, Ann Aguirre, Lish McBride, and Jessica Brody, and the tour will continue on without me throughout September and October.
Be sure to Like the Fierce Reads Facebook Page for updates and check out the Fierce Reads Events Calendar to see if we'll be coming near you.
In the meantime, I thought I'd introduce you to my Fierce Reads sistahs again, starting with the fabulous Elizabeth Fama who has written an absolutely spectacular book.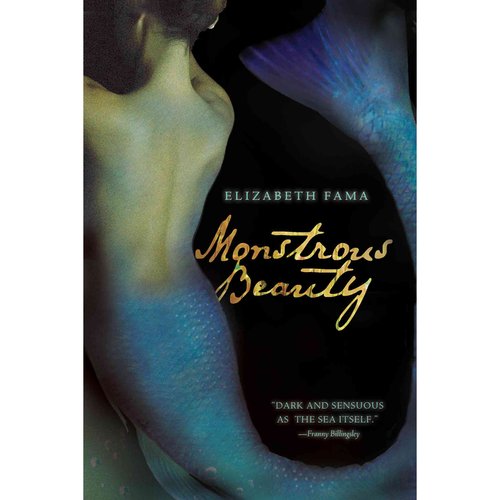 Monstrous Beauty by Elizabeth Fama
Fierce, seductive mermaid Syrenka falls in love with Ezra, a young naturalist. When she abandons her life underwater for a chance at happiness on land, she is unaware that this decision comes with horrific and deadly consequences.
Almost one hundred forty years later, seventeen-year-old Hester meets a mysterious stranger named Ezra and feels overwhelmingly, inexplicably drawn to him. For generations, love has resulted in death for the women in her family. Is it an undiagnosed genetic defect . . . or a curse? With Ezra's help, Hester investigates her family's strange, sad history. The answers she seeks are waiting in the graveyard, the crypt, and at the bottom of the ocean—but powerful forces will do anything to keep her from uncovering her connection to Syrenka and to the tragedy of so long ago.
I love-love-loved this book. It's gorgeous. It's eerie. It's romantic. It's haunting. It's mysterious. It's brilliantly constructed. I could not put it down. It's also one of those rare books that has something for everyone. Whether you like mermaids, ghost stories, murder mysteries, history, or romance, definitely check this one out.
Not convinced?
Read a Chapter Excerpt from Monstrous Beauty or "Men Who Wish to Drown," a short companion story at Tor.com
Have you read this book yet? What did you think? And will you be at any of the Fierce Reads tour stops this fall?