If you happen into any bookshops today, keep your eye out for the shiny new CINDER paperbacks with all their shiny new bonus materials (which I waxed poetic about in this blog post, in case you missed it).
And if you have a smart phone, be sure to scan the QR code in the back. It has cool stuff. Like Cinder smartphone wallpapers. LOVE.
If you're not gonna be near a bookshop this week, well, there's a chance you might win the paperback if you go enter my Goodreads Giveaway! Ends January 15.
Seven awesome bloggers are helping me celebrate the paperback release by highlighting seven Lunar Chronicles characters—new and old! Check them out all this week at these fantastic blogs:
Sun 6 Jan 2013: http://www.readingteen.net/ (Linh Cinder)
Mon 7 Jan 2013: http://www.carinabooks.blogspot.com/ (Prince Kai)
Tues 8 Jan 2013: http://themodpodgebookshelf.blogspot.com/ (Queen Levana)
Wed 9 Jan 2013: http://cuddlebuggery.com/ (Scarlet Benoit)
Thurs 10 Jan 2013: http://www.goodbooksandgoodwine.com/ (Wolf)
Fri 11 Jan 2013: http://www.blogginboutbooks.com (Captain Carswell Thorne)
Sat 12 Jan 2013: http://www.xpressoreads.com/ (Iko)
Hope you enjoy getting to meet some of the new faces of the Lunar Chronicles.
I also wanted to let you know that the first quarterly newsletter of 2013 will be going out this evening or tomorrow—featuring an interview with the amazing Beth Revis (ACROSS THE UNIVERSE). So if you  haven't subscribed yet, be sure to do that at: https://www.marissameyer.com/connect.
(That page also boasts the full newsletter archives if you first want to check it out and see what you've been missing.)
What else, what else…
Last week we added a new event to the Scarlet Tour schedule. If you're near Washington, DC, I hope you'll come see me on February 19 at the Bethesda Library (sales by Politics & Prose). That also happens to be my birthday, so only people who bring cake will be admitted.
(Just kidding.)
Speaking of downloadable wallpapers (hey, it was only, like, seven paragraphs ago), if you're looking for something pretty to put on your desktop or blog to display your SCARLET enthusiasm, check out this gorgeous banner designed by Ashley at The Book Nook Blog. Thank you so much, Ashley!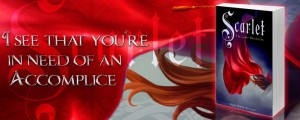 Looking for other ways to display your enthusiasm? There are also pretty Lunar Chronicles icons on that page for your Twitter or Goodreads profile, compliments of my lovely beta-reader Jojo. *squishes*
Oh! Also, the word is starting to spread that instead of red shoes, like last year, Lunar Chronicles fans will be donning red scarves on release day—February 5. Raid your closet (or someone else's closet) and join in!
And on THAT NOTE, I'm taking a blogging hiatus to prepare for the Scarlet Launch Party, Scarlet Virtual Launch Party, Scarlet Tour, Scarlet Blog Tour, and other Scarlet-y Goodness. I'll jump on if anything big happens, and I'll still be hanging around Twitter and Facebook, but otherwise – I'll see you guys in February! WOOT.