THIS AUCTION HAS ENDED.
Thank you to everyone who bid, and congrats to Alice who won with a jaw-dropping $555! THANK YOU!
You are looking at the blog post for Auction #1. View Auction #2 here.
Unless you've been busy exploring the outer rims of the galaxy lately, you have no doubt heard of Super Typhoon Haiyan and the horrendous havoc it has caused in the Philippines. The death toll has reached over 10,000 and … it's just really, really bad. My heart goes out to everyone in the Philippines and everyone who has friends and family who have been impacted by this storm, and of course to all the Lunar Chronicles fans and readers who are experiencing such a terrible, life-altering disaster.
It's easy to think that there isn't much you can do to help people when you live on the other side of the world from them, but we know that isn't true. Our monetary donations to organizations like Global Giving or NAFCON can help bring much-needed food and supplies to the people who have lost everything.
With that in mind, I'm hosting two auctions – each with the same prize lot – and all proceeds will be given to Global Giving's Typhoon Haiyan Relief Fund.
The Auction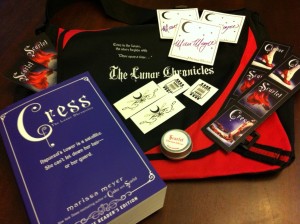 You are bidding on a single prize pack that includes the following items:
– 1 signed ARC of CRESS: Book Three of the Lunar Chronicles
– 1 limited-edition Lunar Chronicles messenger bag
– 1 Scarlet watermelon-flavored lipgloss
– 3 signed Marissa Meyer book plates
– 4 temporary tattoos
– 2 Scarlet stickers
– 2 bookmarks
Note: This is IT guys. With the exception of the ARC reserved for the Write Like Crazy challenge winner, these are my last ARCs of Cress.
How to Bid
Comment to this blog post with your bid amount. This auction is open internationally, but all bids must be in US dollars.
(IMPORTANT NOTE: If you are reading this from a GoodReads or Amazon feed, please click-through and bid on my actual blog at www.marissameyer.com/blog, otherwise your bids will be ignored.)
Auction #1 will end on Tuesday, November 19, at 6:00 p.m. PST.
Auction #2 will end on Tuesday, November 19, at 7:00 p.m. PST.
Claiming Your Prize
I will contact the winning bidders within 24 hours of the auction ending. The highest bidders in each auction will have three days to donate the bid amount directly to the Global Giving Typhoon Haiyan Relief Fund and send me the confirmation of their donation, along with their mailing address.
I will then match the final amounts of both auctions with my own donation to the relief fund, and send out your prize.
Donating and Other Auctions
If you would like to donate to the relief fund separate from these auctions, you can do so here: http://www.globalgiving.org/projects/super-typhoon-haiyan-relief-fund/
If you would like to bid on more awesome YA goodies to help the people impacted by Typhoon Haiyan, check out these auctions:
YALLFEST for the Philippines: YALLfest is auctioning off prizes from this year's festival authors (including a signed set of Legend, Prodigy, and Champion by Marie Lu!). 100% of proceeds go to NAFCON.
Authors for Philippines: This site is being run out of the UK and you'll have to use a currency calculator to place your bids, but there are a TON of amazing prizes – from signed books to manuscript critiques, so check it out. 100% of proceeds go to the Red Cross.