Two things happened this weekend.
1. I joined Instagram. (Because… peer pressure.)
2. I got my box of RENEGADES ARCs! Which means… it is time for me to start giving them away!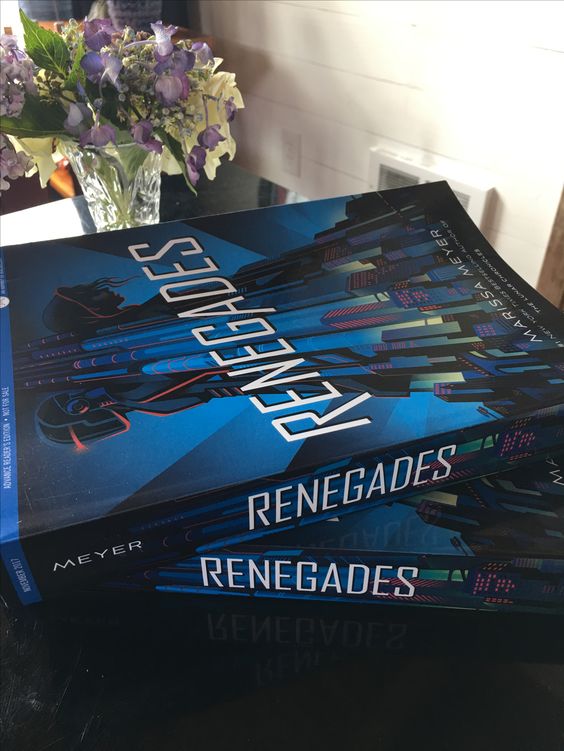 In honor of my being apparently the last person on the planet to join the Instagram bandwagon, I wanted to do a big #WinRenegades giveaway across all my social media pages. And I thought I'd start by saying –
THANK YOU.
Thanks to everyone who has followed, liked, favorited, or commented in support of me and my books over the past six years. I know I've been really quiet on the social networks lately (for which I mostly blame babies), but I so appreciate all of your ongoing encouragement – the fanart, the beautiful pictures, the kind words.
With that said, I am giving away one ARC for each of the social networks that I'm (somewhat) active on… and now, Instagram, too!
Read on for details on how to enter via each channel. Enter one or enter them all – it's completely up to you!
NETWORK: THE MARISSAMEYER.COM BLOG
Though not officially a social network, I've been connecting with readers via my blog since way back in my LiveJournal / fanfiction-writing days, and it remains one of my favorite ways to talk to you guys about my books and writing in general. Seriously, thank you for being here!
To enter, respond to this blog post and tell me:
What is your favorite type of content to see on this blog? (and/or) What sort of posts or information would you like to see more of?
Once you've commented, enter the Rafflecopter form below!
NETWORK: THE MARISSAMEYER.COM NEWSLETTER
All you have to do is sign up, then enter via the Rafflecopter form. That's it!
Subscribe at https://www.marissameyer.com/connect.
NETWORK: TWITTER
1. Tweet an answer to this question: What makes YOU a hero? (Or, if you must, a villain.)
2. Include the hashtag #WinRenegades
3. Enter the Rafflecopter form below!
NETWORK: FACEBOOK
I just posted about receiving the ARCs (hurrah!), and all you have to do is like or comment on it, then enter the Rafflecopter form below. Easy peasy!
NETWORK: PINTEREST
Re-pin at least one image from my RENEGADES inspiration board to any board of your choosing, and include the hashtag #WinRenegades. Then enter the Rafflecopter form below!
NETWORK: INSTAGRAM
I hope all the above challenges were easy enough, because I'm going to expect a *bit* more for my very first Instagram giveaway.
Your mission:
Take your best #bookstagram / still-life photo or video featuring at least one of my books. Be artsy! Be creative! I'm new to this, so I'm really looking forward to seeing what you all do.
Include the hashtags #WinRenegades and #bookstagram.
Once you're done, enter (you guessed it) the Rafflecopter form!
There will be TWO winners via Instagram: the entrant who took my personal favorite photo, plus one randomly selected winner.
Curious? Here is my first go at the bookstagram thing:
PRIZES
Each winner will receive a signed ARC of RENEGADES! Plus whatever pieces of random swag I have lying around.
RULES
Open Internationally! WOOT!
All entries must be submitted by Midnight PST on Sunday, August 27, 2017. Winners will be selected on Monday, August 28.
There will be Seven (7) winners total. Entries via blog comments, newsletter subscribers, Twitter, Pinterest, and Facebook, plus one entry from Instagram, will be selected randomly via Rafflecopter. One additional Instagram entry will be hand-picked by Marissa.
Once winners have been contacted, they will have 72 hours to respond and claim their prize before a follow-up winner is chosen.
Good luck!