Although, like me, Jessica isn't an "official" member of the Fierce Reads tour this time around, she will be joining us on at least one stop, and I adored this book so I'm thrilled to include it in my Fierce Reads round-up!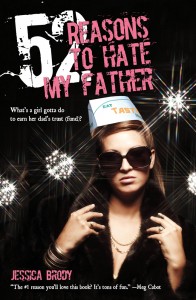 52 Reasons to Hate My Father by Jessica Brody
Lexington Larrabee has never to work a day in her life. After all, she's the heiress to the multi-billion-dollar Larrabee Media empire. And heiresses are not supposed to work. But then again, they're not supposed to crash brand new Mercedes convertibles into convenience stores on Sunset Blvd either.
Which is why, on Lexi's eighteen birthday, her ever-absent, tycoon father decides to take a more proactive approach to her wayward life. Every week for the next year, she will have to take on a different low-wage job if she ever wants to receive her beloved trust fund. But if there's anything worse than working as a maid, a dishwasher, and a fast-food restaurant employee, it's dealing with Luke, the arrogant, albeit moderately attractive, college intern her father has assigned to keep tabs on her.
In a hilarious "comedy of heiress" about family, forgiveness, good intentions, and best of all, second chances, Lexi learns that love can be unconditional, money can be immaterial, and, regardless of age, everyone needs a little saving. And although she might have 52 reasons to hate her father, she only needs one reason to love him.

I LOVE this book trailer. It's a little on the long side, but it's amazing. Makes me hope the book gets picked up for a full feature movie!
Be sure to Like the Fierce Reads Facebook Page for updates and check out the Fierce Reads Events Calendar to see if we'll be coming near you.